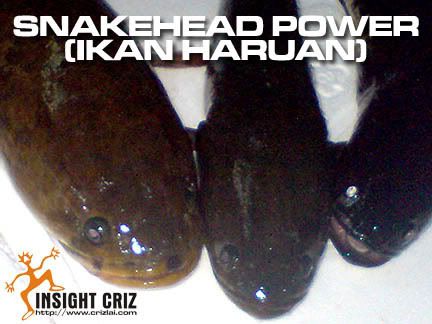 Have you heard about the tissue healing value of the Snakehead Murrel (Channa striatus or Ikan Haruan)? Many states in the USA and countries like Australia prohibited the breeding of the Snakeheads as they can become invasive species and cause ecological damage as they are top-level predators. But in many of the Asian and African countries, they are bred as a valuable food and medical source. The fish has been traditionally used in Asian cooking for those post pregnancy and post operation patients as it has miraculous healing effects for wounds.
A few years back, a local professor found 4 lipo-protein compounds, complex molecules containing amino and fatty acids that are responsible for wound healing. When absorbed into our body system, the lipo-proteins will react to the broken human tissue and catalyze fibroblast or scar tissue development. Ongoing researches are still being done to fine tune the dosage and extract the lipo-proteins for pharmaceutical development. Surprisingly, these lipo-proteins can only be found in wild snakeheads as aqua-cultured ones were found to be not so effective.
Let us hope that by working closely with a clinical laboratory service company, an exact formula can be developed soon to help those with wound healing difficulty especially those diabetic and cancer patients.
I'm thirsty for a drink now. Would you be kind enough to treat me?