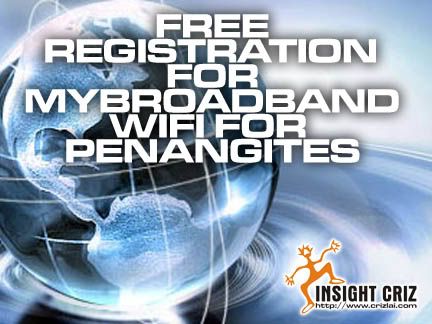 Penang and Kulim Pilot Broadband Project was one of the ongoing projects under the National Broadband Plan. MyBroadband WiFi is an initiative by the Ministry of Energy, Water, and Communication to increase the accessibility of Internet through the usage of broadband in Malaysia. This initiative will also enable the public to access key government's web presences, and e-government services at any of the WiFi locations.
MyBroadband WiFi is implemented through a smart collaboration between the government, the community, and the Internet Service Providers (ISPs), whereby each party would contribute different resources to the initiative. Presently, we can see that ISP companies such as TM, PenangFon and Jaring were heavily involved in the test piloting of this project.
Incorporated as part of the Penang i-Land 2010 Masterplan, the project is designed to provide the necessary infrastructure to realize Penang as a fully connected state by 2010 with reliable, fast broadband and affordable network infrastructure. A few strategic districts such as Batu Ferringhi, Batu Maung, Bayan Baru, Bayan Lepas, Bukit Jambul, Bukit Mertajam, Gelugor, Gurney, Seberang Jaya, Sungai Ara, Sungai Dua, Sungai Nibong, Tanjung Bunga, Tanjung Tokong and Teluk Bahang have already had the service booted up. More districts in Penang as well as Kedah would be up soon.
If you would like to try out the FREE WIFI SERVICE, do register yourself an account at http://www.mybroadband.gov.my to be eligible to surf for free. If you would like to be a provider to make Penang's dream to be fully connected by 2010, just log in the service provider form to sign yourself up.
I'm thirsty for a drink now. Would you be kind enough to treat me?