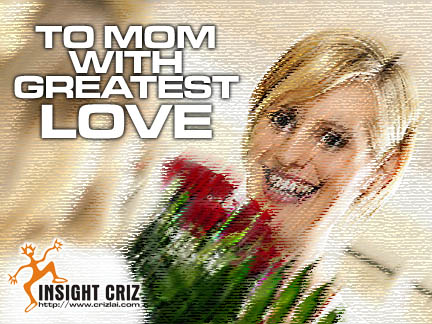 Mothers' Day is one of those special days where you set aside all other commitments and reflect on all the wonderful things your mother has done for you. The majority of us would probably consider buying something special, some kind of a material gift for Mum so she can feel the love and care that she deserves. However, what makes a mother especially loved and cared for is more than just a material gift on Mother's day, but a sincere love, appreciation and a sense of closeness.
With a high increase of prices in practically all the things now, most of us are all out trying to earn that little extra to make ends meet. Thus, most of us don't even have enough time to spend with our parents. Just ask yourself: how many times a year do you call your mother; how many times a year do you see her, how many times do you listen to her and ask for her opinion or advice? Do give her a call her now. Lend her your time as your gift of time. Mothers are here for us not only on Mothers' Day but also the remaining days throughout the year. They surely deserved many more days, right? Being more creative, loving and more personal would make the best gift of love that you could ever give to your mother.
I'm also very sure that she as a Mother and a woman would also love to receive some fresh flowers frequently. You could always engage the us flower delivery services to give her that surprises she would love to receive from you.
Thanks Mum for providing me the perfect soil in which to grow to make me who I am today. Happy Mothers' Day!
I'm thirsty for a drink now. Would you be kind enough to treat me?