With E&O Residences being strategically located in the heart of Kuala Lumpur's Central Business District (CBD), it's the ideal place to reside in, whether it's for business or pleasure. With its 200 exclusive and stylishly appointed suites available and fully equipped with the required amenities, you can practically call the service residence your "second home away from home". Perched on a rare elevated plot of land that overlooks the commercial district, this haven of luxury, along with its sister-property, St. Mary Residences, is purposely positioned on the secluded Jalan Tengah, which is hidden away from the hustle and bustle of busy lifestyle out there but without being obstructed from the captivating views of the city skyline. Everywhere seems to be just a stone's away from E&O Residences. From nightspots, world-class restaurants, cool bistros, shopping malls, luxury boutiques, 5-star hotels as well as the corporate offices of global giants, are just a short distance away, either by walking or via the convenience of the KL Monorail. At E&O Residences, it's all about working and playing within the vicinity.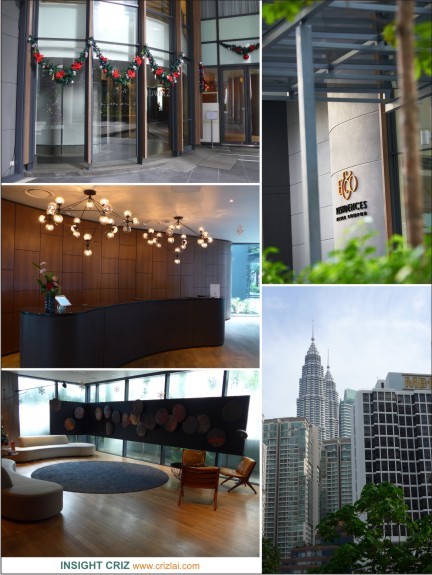 There are two types of suites available as below:
1 BEDROOM SUITE (104 units): Max 3 persons
The 105 sq m/1,131 sq ft contemporary and yet cozy studio suite with separate bedroom is ideal for couple or even a small family with a child. It's spacious and you can have a majestic view of the city skyline anytime throughout the day. The master bedroom is furnished with a king sized bed and the bathroom is ever ready to become your place of relaxation with the necessary toiletries provided. With the availability of the fully equipped kitchenette, you could pep up a simple meal in no time while enjoying your meal in front of the TV set in your living room or at the dining area.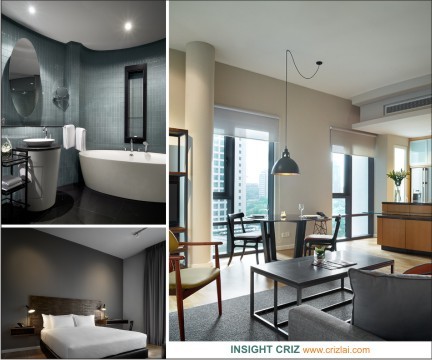 2 BEDROOMS SUITE (96 units): Max 5 persons
The luxurious city suite (134 sq m/1,442 sq ft) is perfect for larger families with children. It has an open living area, kitchenette, dining area, powder room/additional toilet and even a private study/work room. Both the master bedroom and guest room have personalized baths and wardrobes on top of the comfortable king sized beds. The best part would be being a "couch potato" on the huge sofa with cushions watching the surround sound TV system while enjoy the cool breeze from the balcony. With all your needs catered for, this would be the ideal suite to lodge in away from home.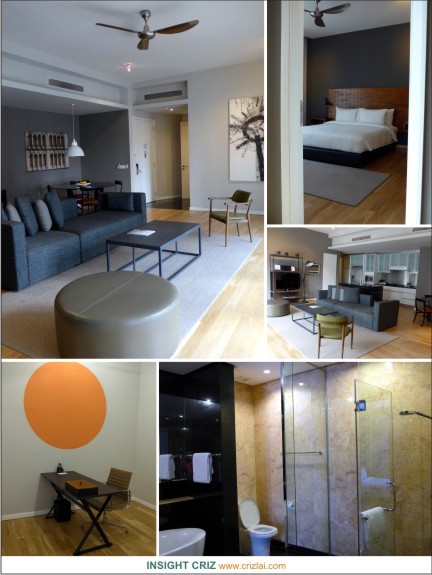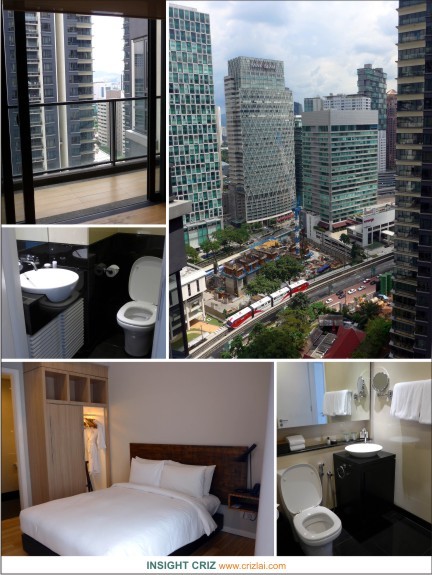 STANDARD AMENITIES:
Basically, the amenities in both the 1-bedroom and 2-bedroom are the same except for the size of the built-up area and the layout. Inside each luxurious and stylish suite, you would expect to get air-conditioning with individually controlled thermostats, bathroom with shower, free standing bath, 'His' & 'Hers' vanities, washing machine & dryer, fully equipped kitchen (electric hob & hood, refrigerator, microwave oven, toaster, coffee maker (with coffee powder, tea, sugar & creamer), electric kettle, glassware, crockery, cutlery & utensils, home entertainment system (iPod docking station, television with satellite & cable channels), hairdryer, steam iron & ironing board, IDD telephone, WiFi internet connectivity, in-suite electronic safe, 24-hour security and more. On top of that, your toiletries items such as towels, shampoo, conditioner, body gel, hand lotion, etc, would be replenished on a daily basis.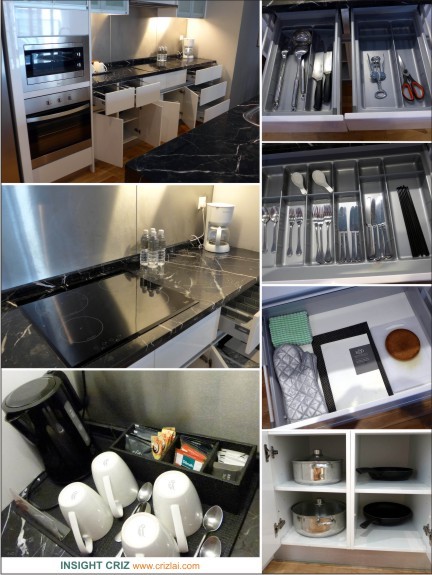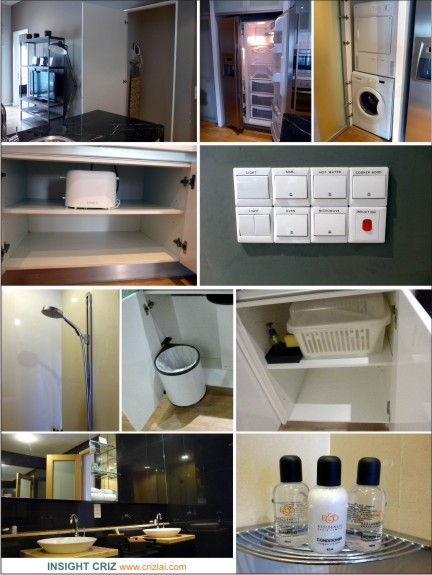 GENERAL FACILITIES:
Other than the in-suite amenities and facilities, there are within the confines of the E&O Residences for you to explore, whether for personal usages or business needs.
Gym & Exercise Room (Yoga & Aerobics) – Available from 7.00am until 10.00pm daily, you would get to tone up that body of yours with the available equipments. Other than that, you can always check at the reception on the availability of any classes.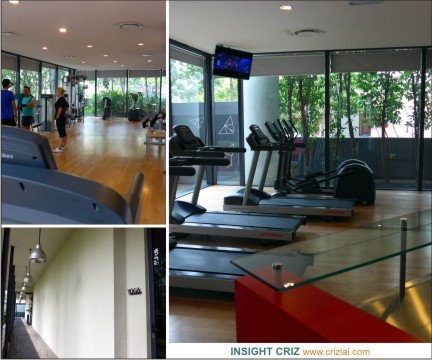 Landscape Garden Courtyard & Children Playground (outdoor & indoor) – Accompanying children would surely love the courtyard and it's a safe place for them too as the ground had been treated with Ethylene Propylene Diene Monomer (EPDM) flooring, a durable synthetic rubber material that would prevent children from having high accident risk. There's also the indoor playground for children with lots of toys.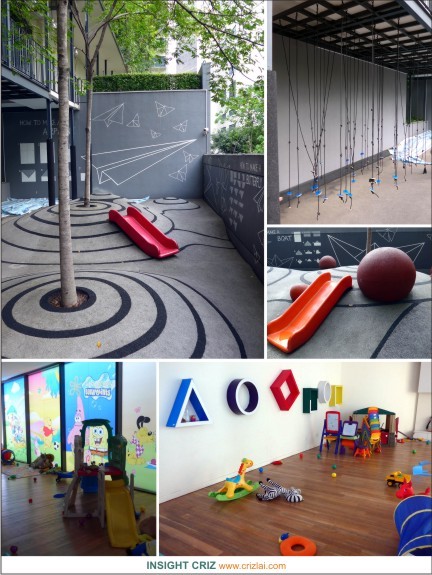 Swimming Pool & Jacuzzi (private gazebo & public) – The swimming pool is public accessible by both residents of St. Mary Residences and E&O Residences. It's available from 7.00am until 10.00pm daily. There are many sunbathing decks scattered all around the pool for your relaxation while watching the skyline, namely the Petronas twin tower and Menara KL. You could even lie on the few swinging beds around. The best part is the availability of many jacuzzis, whether you want to utilize the public area or enjoying the water massage in the set up gazebo in privacy.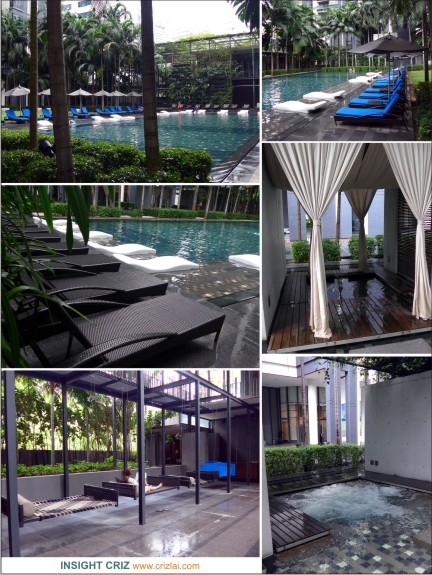 Resident Lounge, Business Center & Function Room – There are many resident lounge areas within the vicinity for your personal use. In case you would need to have some work done with some basic printing and internet usage, you could always use their Business Center located near the receptionist area of Tower 2, over some coffee too. For more formal meetings, you can check with the reception on the availability of the Function Room.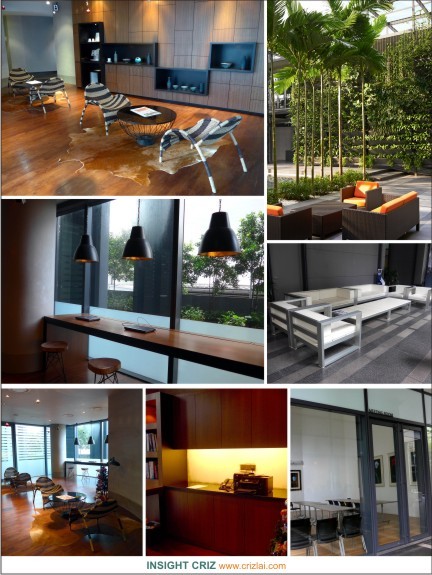 Basement Car Park – There would be ample parking bays at the basement for the occupants. Entering and exiting would be via the mode of your suite's key card.
Concierge Service – For your leisure or business needs, you could always consult the concierge counter for advice and arrangement such as calling in a taxi, arranging a tour, make restaurant reservation and more. They are there to assist you to make your stay a pleasant one.
Dining – Delicious @ St. Mary Place is located in the next building just across E&O Residences. They would cater to your dining needs from 7.00am until 9.30pm daily.
ATTRACTIONS: With the easy access of rail transits as shown in the KL Rail Transit Map below, you can practically visit any places in your wish list. All you need is a Touch n Go card or cash to use the rail transport facilities. For those places without rail transit access, you can always go the receptionist and request for a taxi. All taxis in KL are metered and I can assure you that the rates provided are reasonable.
CRAZY MONKEY SALES 2016: Book from 1-10 January 2016 and enjoy your stay from 10 January 2016 until 30 June 2016. Check out the promotion here.
Name: E&O RESIDENCES
Address: No. 1 Jalan Tengah (Off Jalan Sultan Ismail), 50450 Kuala Lumpur, Malaysia.
Contact: +603-2023 2188
Website: www.eoresidences.com
GPS: 3.151728, 101.708619 (entrance to E&O Residences & St. Mary Residences)
DIRECTIONS: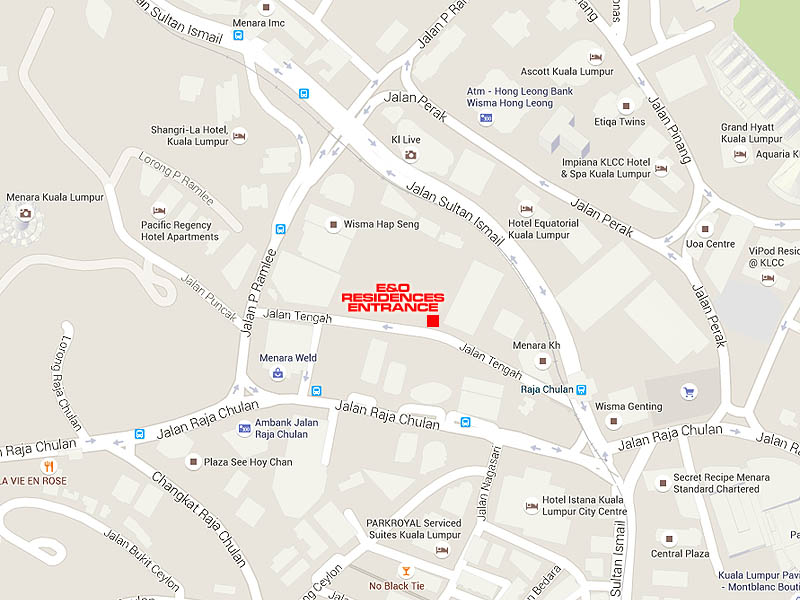 For those from outstation/overseas and won't be driving into KL city, the best way to reach E&O Residences is via the KL Monorail. Find your way to KL Sentral and from there transit via KL Monorail (KL Sentral) to KL Monorail (Raja Chulan). From the Raja Chulan Station, just walk about 400m via Jalan Tengah and you would see the entrance to the residences. If you are still unsure, just switch on your Google Map app on your mobile and key in the GPS (3.151728, 101.708619).
To ease you in finding your nearest rail transit station, you can refer to the map below. Do click on the map for a better view.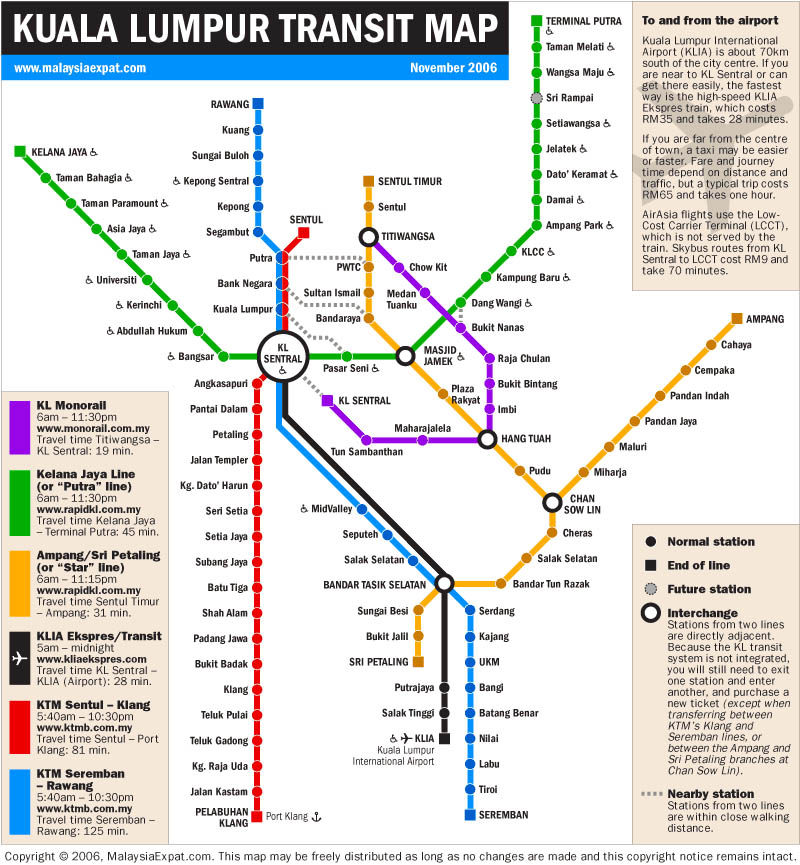 RATING:
Ambience: 9/10 (1-4 cheap, 5-7 average, 8-10 classy)
Cleanliness: 8/10 (1-4 limited, 5-7 average, 8-10 many choices)
Noise Pollution: 5/10 (1-4 quiet, 5-7 average, 8-10 noisy)
Pricing: 7/10 (1-4 cheap, 5-7 average, 8-10 expensive)
Service: 8/10 (1-4 bad, 5-7 average, 8-10 excellent)
I'm thirsty for a drink now. Would you be kind enough to treat me?