In conjunction with the introduction of the new Anlene with MoveMax™ which includes Calcium, Collagen and Protein for the well-being of bones, joints and muscles, dairy giant Fonterra Brands Malaysia, has recently launched an experiential showcase at Queensbay Mall, Penang (31 August 2016 – 4 September 2016) to get Malaysians to "move as young as they feel inside". He explained that there needs to be more awareness on the importance of movement as one gets older. "We want to empower more Malaysians to come out of their shells and get moving as young as they feel inside. While they may emotionally feel younger inside, they need to align their physical movement to appear fresh and dynamic on the outside – not to be defined by age. Research showed that active adults have a 30% higher chance of enhanced wellbeing than inactive adults. Movement does not need to be a chore, it can be joyful and fun," said Mr. Paulo Ocampo, Marketing Manager of Anlene for Malaysia.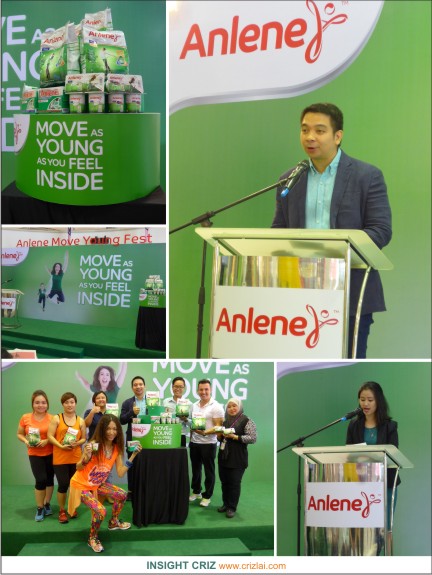 Public can pay a visit to the ground floor concourse of Queensbay Mall, Penang, to get FREE mobility checks (worth RM120) at the respective MoveCheck counters, thereafter, getting FREE consultation to know how to improve your bones, joints and muscles.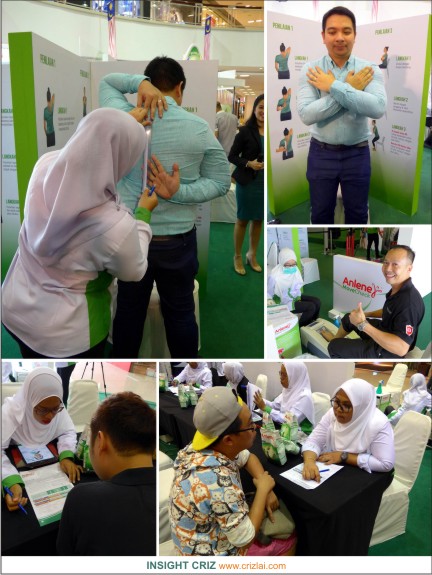 If you are in for more FREEBIES, you could always join in for more fun at 3 more action games corners, namely dance arcade, trampoline and tyre swinging. Just remember that youth has no age and always trust in your own abilities when you think you can't. Do stay positive mentally and physically, then you would realize that there's no such thing as IMPOSSIBLE. It's always I'M POSSIBLE.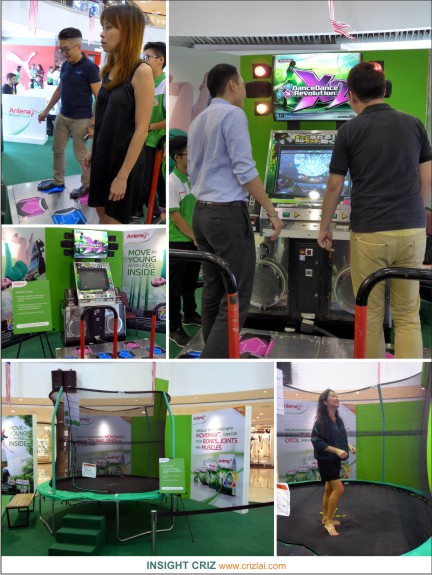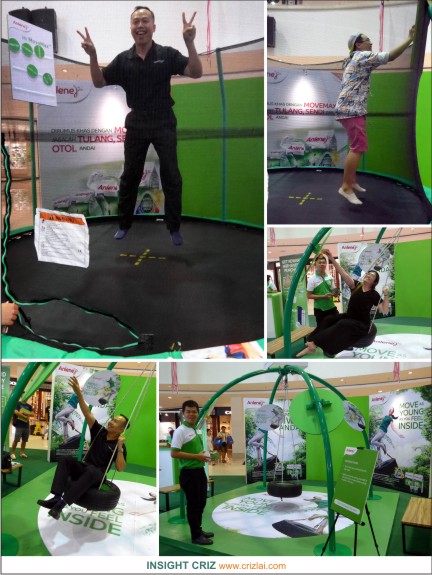 Moreover, you would also get FREE try outs of Anlene MoveMax™ plain & chocolate beverages plus yoghurt (4 flavors available). Though the beverages were really nice when served chilled, my preference was the yoghurt which was thick and flavorful to my liking, especially when they were frozen and taken just like ice cream.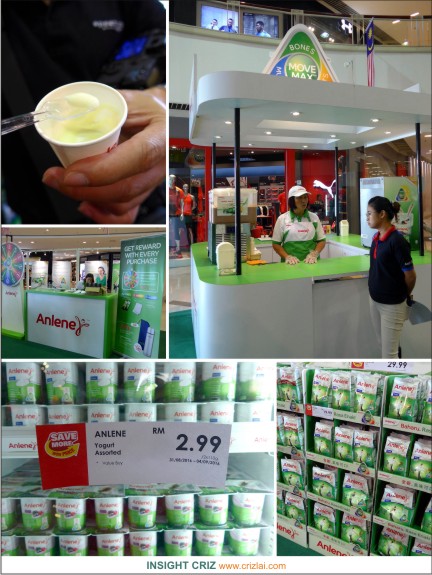 On top of that, you would get more options to purchase RM20 worth of products and get MORE FREEBIES at the "Spin to Win" counter or Buy RM98 worth of products to claim a beautiful 500ml Stainless Steel Flask. Anlene with MoveMax™ contains important nutrients such as Calcium, Collagen, Protein, as well as other nutrients such as magnesium, zinc, and Vitamins B, C, D & E in a nutrient bundle to help care for your bones, joints and muscles. Anlene MoveMax™ is available in all leading supermarkets nationwide and is available in the powdered form as well as in the yoghurt form. The powdered form comes in two flavours – plain and chocolate and is available in 1kg, 600g and 175g packs. Anlene Movemax™ Yoghurt is available in 4 delicious variants, namely plain, mango, strawberry and mixed berries.
Do click on the photo below for a clearer view on the program for the weekend: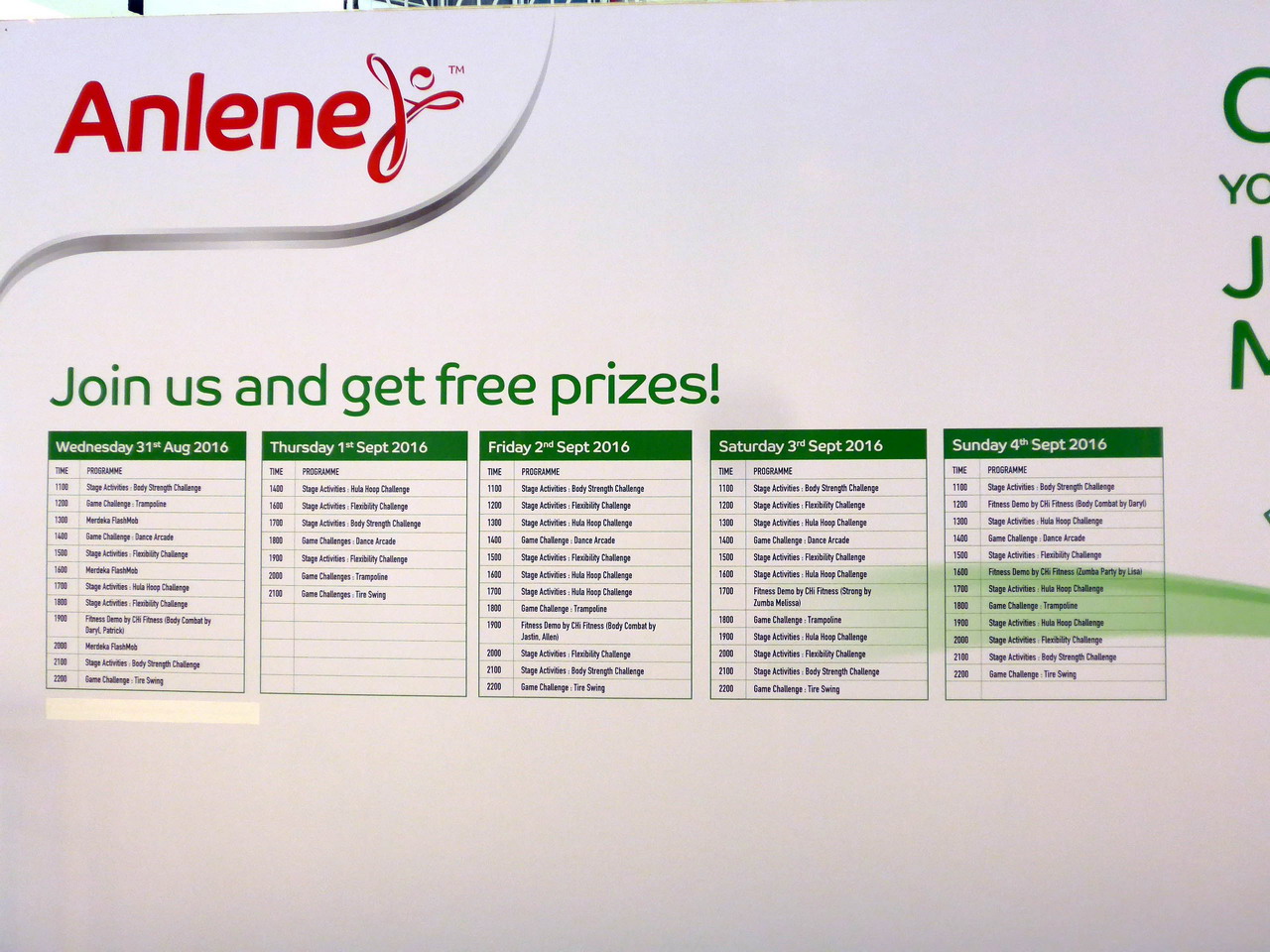 About Fonterra

: Fonterra is a global leader in dairy nutrition – the preferred supplier of dairy ingredients to many of the world's leading food companies. Fonterra is also a market leader with our own consumer dairy brands in Australia/New Zealand, Asia/Africa, Middle East and Latin America. The farmer-owned New Zealand co-operative is the largest processor of milk in the world, producing more than two million tonnes of dairy ingredients, value added dairy ingredients, specialty ingredients and consumer products every year. Drawing on generations of dairy expertise, Fonterra is one of the largest investors in dairy based research and innovation in the world. Our 16,000 staff work across the dairy spectrum from advising farmers on sustainable farming and milk production, to ensuring we live up to exacting quality standards and delivering every day on our customer promise in more than 100 markets around the world.
About Fonterra Brands Malaysia

: Fonterra is the world's largest exporter of dairy products, and the leading provider of the widest range of adult and maternal dairy products, yoghurt and ingredients tailored to meet the needs of consumers and professional food service operators in over 140 countries around the world. In Malaysia, Fonterra produce, distribute and market a full range of dairy products, including ready-to-drink milk, milk powders, cultured milk drinks, cheese and butter under the brands of Anmum Materna, Anmum Essential, Anmum Lacta, Fernleaf, Solivite, Calciyum, Anlene, Fernleaf and Chesdale. All of our consumer dairy products here in Malaysia are Halal certified by both the Department of Islamic Development Malaysia (JAKIM) and New Zealand Islamic Development Trust (NZIDT).
I'm thirsty for a drink now. Would you be kind enough to treat me?