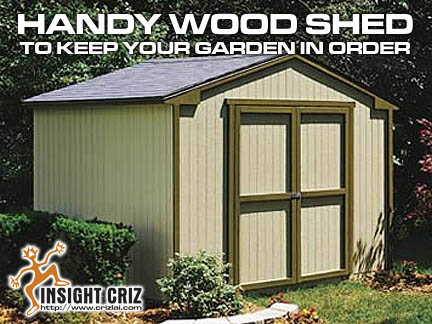 Most homeowners, especially those with younger kids at home, would always be on alert unnecessarily when their garden has all the potential dangerous equipments left exposed in the open. Firstly, those equipments might even wear off faster under the direct heat from the sun or the wetness from the rain. Other than being an eye sore when the equipments are left haphazardly everywhere, it might also cause injuries to the kids at home. After all, kids are kids and they are always having that curiosity when left unattended to.
The ideal way to rectify these issues would be by constructing a handy shed to keep those equipments away from the sight of adult visitors as well as kids. Your preferred shed could come in many shapes and size based on your budget with options of Vinyl Sheds, Metal Sheds, Plastic Sheds, Wood Sheds, DuraMax Sheds, Arrow Sheds, Lifetime Sheds or even Suncast Sheds.
As for me, I love to have the materials to blend in with the nature within my garden. I chose the extra wide, pre-hung lockable double doors Wood Shed. The wonderful thing about purchasing this American made product is that it would come with a 10 Year Limited Warranty. Moreover, it would be delivered to your doorstep free and without any sales tax. Everything would be pre-cut and ready for assembly just like how you would assemble your kid's LEGO® set. You just need to refer to the accompanied manual with clear illustrations which would be easily understood by anyone without any carpentry skills. You would also be assured of long term of usage as the materials had been treated professionally to prevent fungal decay and insect infestation. Now that you have a proper storage place with the necessary security features, you can live your life more worry free.
I'm thirsty for a drink now. Would you be kind enough to treat me?