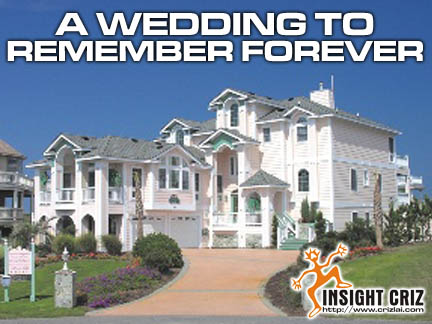 Some time back last year, I received a registered mail addressed to my name. Upon opening up the mail, I saw a nicely designed wedding invitation card of Joe and Jenny. Finally, those two had decided to tie the knot after being engaged for two years. Time really flew very fast. At that moment, I thought it was another of those hotel receptions where buffet was served towards the end of the couple's declaration. I was in for a surprise when I saw the venue on the card, "pack your best dress/suit and two days of luggage, you'd be driven to a private reception." What? I have always known them as an outgoing and adventurous couple but this was something I had not expected from them. I loved surprises and this was one wedding that I would surely not miss out.
On that appointed date, I got my friend to drop me off at Joe's house. Upon arriving, there was already a big crowd on the charted double decked bus. Sam was there, so were practically the whole university mates of ours. It was like another reunion for us. We departed from Columbia and headed for Duck Village along the southern shores of North Carolina. The sceneries throughout the journey were something I would not forget for ages. We were brought to an oceanfront palatial estate, Royal Caribbean II, a one of a kind luxurious, accommodation in an exclusive community setting. Everyone was dumbfounded by the beauty of the whole setting. There were 8 master suites with private baths, exquisite great room and regal grand dining with unprecedented ocean views on top of all the state-of-the art gadgets scattered all around the abode. There were also rooms for electronic games, billiard tables, ping pong tables and wide screen theatre setting, not forgetting a bunch of outdoor sports you can play with.
Wow! I was as if in my own dream home. I could not resist being pampered in the pool with built-in hot tub, stone fireplace while being blown away with the soothing pool side music. Being the non-traditionalists, I would not have expected that I would be so privileged to be invited to such an exclusive vacation with the wedding couple. It was one of the most comfortable and laid-back weddings I had ever attended. The wedding ceremony was simple but filled with lots of meanings for the couple as they had us, their families and friends, to be there, to appreciate the relationships we had throughout our knowing of each other, and to acknowledge their happiness as a truly wedded couple. There no denying that they had made a right choice by engaging an all inclusive wedding packages that not only would remain in their memories for a lifetime but ours as well.
I'm thirsty for a drink now. Would you be kind enough to treat me?