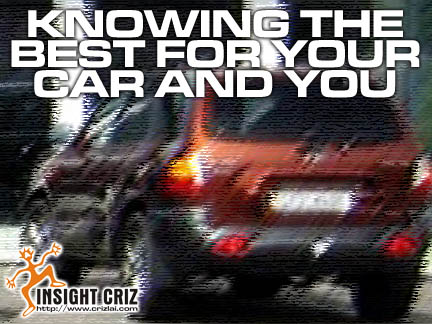 There's no doubt that buying a car is easy for many people out there but to maintain a car is not as hassle free as one may think. There are many things to take charge of after the purchases such as the changing of engine oil, air filter, car tires replacement and alignment, protecting that shine on your car, renewing of the road tax or even getting the cheapest auto insurance that would suit your needs. Well, your new "babe" would surely need lots of your attention after owning her from now onwards. LOL!
There are a few notes that I would like to stress on while you own a car. Firstly, it the golden rule of "Don't Drink and Drive". There's nothing wrong with having some happy times in life but if you are under the influence of alcohol, it would be better to let someone else sober do the driving instead. If not, just take a cab home and make sure your car is securely locked and appropriately parked.
Secondly, it's the "Don't Text & Drive" even if you really need to send an urgent text messaging to just anyone. Pull over your car and park at a safe spot that would not obstruct any traffic and make whatever calls or text messages you would need to do before proceeding to your next destination.
The latest concern by the respective authorities sparked another new distraction while driving. It's the "Don't Eat and Drive" policy. Through a recent survey, it was found that many drivers would commit such an act due to their hectic lifestyle. Meals on wheels had become a norm in the lives of many drivers. There have been many reported accident cases caused by the distractions from spilled drinks, ketchups or even falling asleep from a "too heavy meal" while driving. If you intend to eat, do it in a safe spot and not while driving. Make sure you are not drowsy after each meal before driving off.
I'm thirsty for a drink now. Would you be kind enough to treat me?