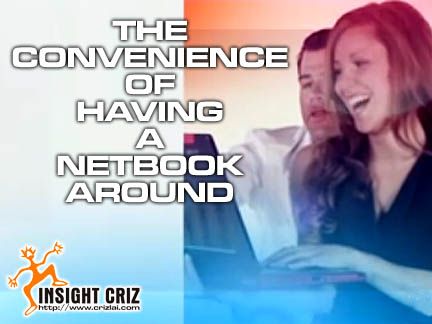 If you walk around many of those places with WIFI access, you would noticed that the laptop those people were using are getting smaller and smaller. These "mini" laptops are called netbooks. It's a small, light weight, low cost, highly portable, energy efficient alternative to a full sized laptop computer where you can surf the internet, email, internet messaging, play music, stream video online, facebook, twitter, word processing and so on that would not need much resources for as long as 5.5 hours. The most wonderful thing would be the large hard drives storage to store your downloaded files.
If you are a hardcore online gamer playing high end video games or even a designer who required high end resources for processing graphical images, you can forget about owning one. This would not be the type of handy equipment for you as the screen would be smaller, thus everything else inclusive the typeface, keys on the keyboards would be smaller too due to its miniature size. Moreover, there would not be any inbuilt drives for you to transfer data unless you purchase other peripherals such as portable drives or a higher storage pendrive.
Netbooks are suitable for those students, travelers or business persons who love its portability and the light weight to carry around for light tasks. These netbooks are fast gaining trend as it's much cheaper than a normal laptop. There are many netbooks manufacturers such as ASUS, Samsung, HP, Acer, MSI and so one on the market and you can source for one easily based on your budget and requirements. I'm going to get one soon for my business convenience. Are you planning to follow suit too?
I'm thirsty for a drink now. Would you be kind enough to treat me?