Written by crizlai on Jun 23rd, 2017 | Filed under:
awareness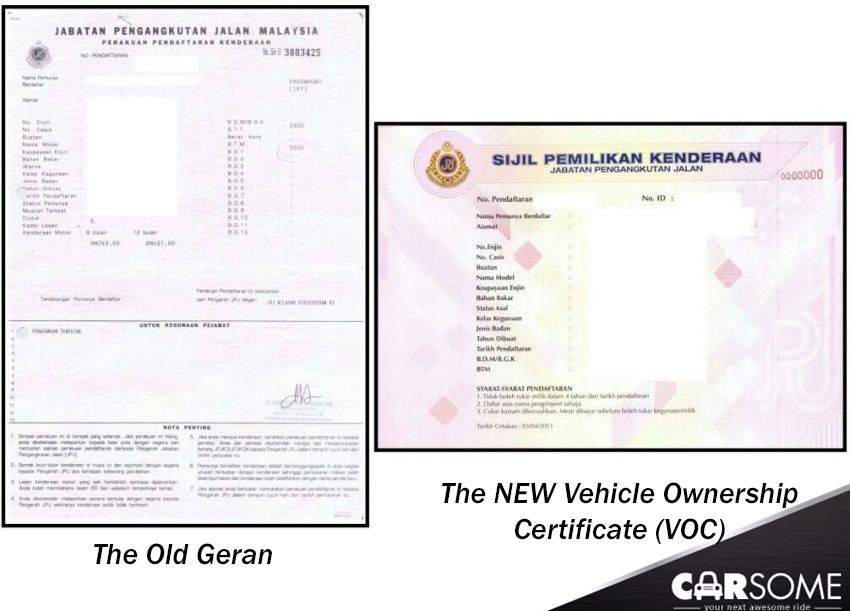 According to the Road Transport Department (JPJ), the expectation date for all vehicles to switch to Vehicle Ownership Certificate (VOC/Sijil Pemilikan Kenderaan) is by 1 Jan 2020. Since I've difficulty in getting more knowledge online on how to get the new VOC and ended up messing up getting my VOC for another year, I might as well share my experiences with everyone here. Please take note that effective 1 June 2016, all renewals for the vehicle's Registration Card (RC/Kad Pendaftaran Kenderaan) won't be updated with the latest transaction as before. Here are the basic steps to renew your road tax (as verified by the personal at JPJ, Batu Uban, Penang):
1. Make sure you get your agent to renew your vehicle insurance at least ONE MONTH BEFORE it expires. From there, everything would be registered online in the JPJ's system for any relevant personnel to renew your yearly road tax.
2. YOU MUST GO DIRECT to the nearest JPJ to renew your road tax WITH your old RC as all JPJ's representative agents DO NOT HAVE the limited VOC printout available.
3. The renewal of your RC to VOC is FREE at all JPJ (unless you lose your original RC in which RM50 would be compounded). This is EXCLUSIVE of the road tax renewal fee (fee varies depending on your vehicle's engine power).
4. At the moment, for those TRAVELLING ACROSS THE BORDER with vehicle REGISTERED UNDER YOUR NAME, you have to obtain a SEPARATE FORM from the JPJ counter to state your reason of bringing your vehicle out to another country. The VOC does not have enough details to allow your vehicle to cross any border. The form is FREE. However, there's a cost of RM20 PER YEAR to perform an online search to print out the FULL DETAILS of your vehicles, which would include the date on which your insurance would expire. WITHOUT this ADDITIONAL PRINTOUT, you won't be able to cross any border (at the moment until further notice). Please note that it's not a must but it's advisable if you could get an official stamp from JPJ to certify the authenticity of the printed documents as they are computer generated and won't have any signature on them.
I'm thirsty for a drink now. Would you be kind enough to treat me?