Whenever I see someone struggling with life and not setting his/her life in proper rhythm, I would always throw in this question, "What's the purpose of your life?" It caught many off guarded by not being able to provide a proper answer. Most would answer that they would want to have a stable career, set up a family and grow old gracefully with their grandchildren. Is that the ultimate answer to the question? Well, there's no right or wrong answer to the question as each individual has their own mindset on different life purposes. As for me, I would strive for a balance in everything – the Zen way of bringing the mind, body and senses in a state of togetherness. When you work hard, you must always play hard too. Thus, this brings me to the topic on how to rejuvenate ourselves, mentally and physically by giving both states the necessary alignments to move forward in our daily lives. I'm glad Rock Spa @ Hard Rock Hotel, Penang, has the same ideology as me by transcending the current spa rituals with their "Live Hard, Purify Harder" slogan and bringing in Asia's first and the world's 5th Rhythm and Motion Spa Treatments, with the other four sets in HRH Ibiza (Spain), HRH Palm Springs (California), HRH Punta Cana (Dominican Republic) and HRH Riviera Maya (Mexico). Being the world's first fully immersive music centric spa menu by utilizing amplified vibrations, pressures and patterns as the foundation of its treatments, this groundbreaking experience takes guests on a rhythmic massage journey, utilizing Hard Rock's differentiator (MUSIC) to connect the healing power of music with the artistry of massage therapy.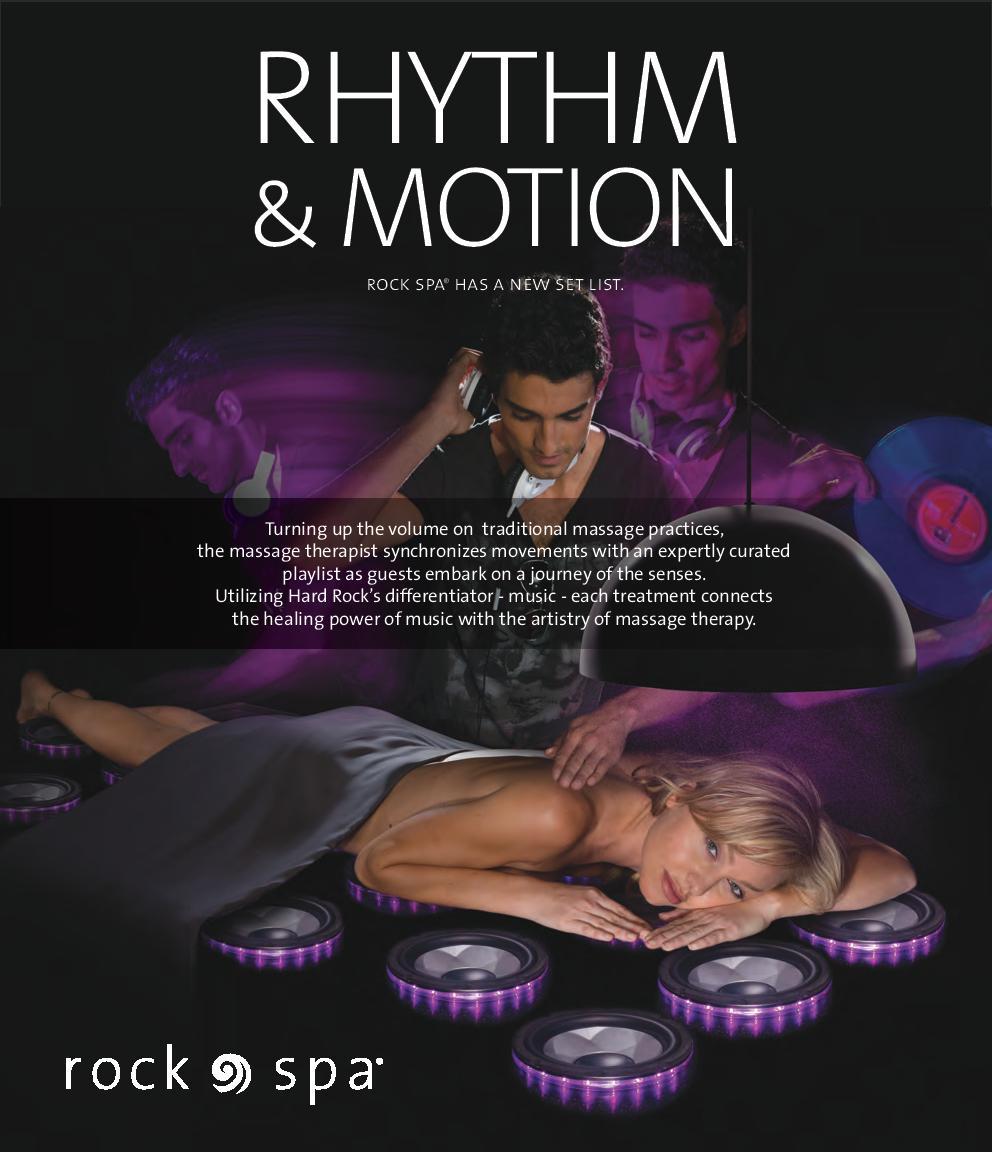 Located at beach front of Hard Rock Hotel, Penang, is a little tranquil yet natural sanctuary by its own named Rock Spa. Upon nearing the premises, you would smell a nice scent lingering through the air. That's the spa's way of welcoming you into their little haven with the free flowing of relaxing aromatherapy essential oil called "Perk Me Up", a combination of lemongrass, peppermint and eucalyptus oils to soothe your mood prior to your spa treatments. Other than being the natural deodorant, it also acts as an analgesic, antidepressant, antimicrobial, antipyretic, a digestive support agent, anti-inflammatory, antispasmodic, decongestant, antiseptic, antibacterial, stimulating and other medicinal qualities. What a great scent to have especially during this cold and hazy weather~ 🙂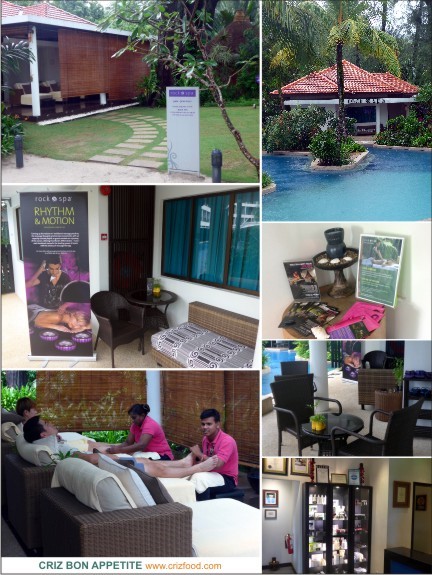 Upon your acceptance to experience the spa treatments at Rock Spa, you would first be served with a hot cup of Ginger Tea. It's a relaxant beverage which would help in relieving your stress level, strengthen your immunity, improving digestion on top of it other anti-inflammatory and anti-respiratory health benefits.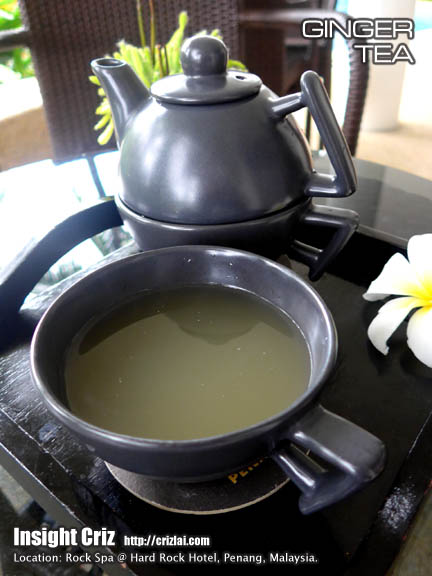 There are 3 packages, namely Synchronicity, Face the Music and Heat Wave, available for your Rhythm & Motion Spa Treatments as shown on the menu below. Basically, these 3 options are add-ons to their existing spa treatments (a gentle Hard Rock Massage/a more pressure point concentrated Traditional Malaysian Massage, a facial concentrated Essential Aromatherapy and the more energy points focus Hot Rocks treatment for the seasoned spa-goers) with the usage of the state-of-the-art music systems.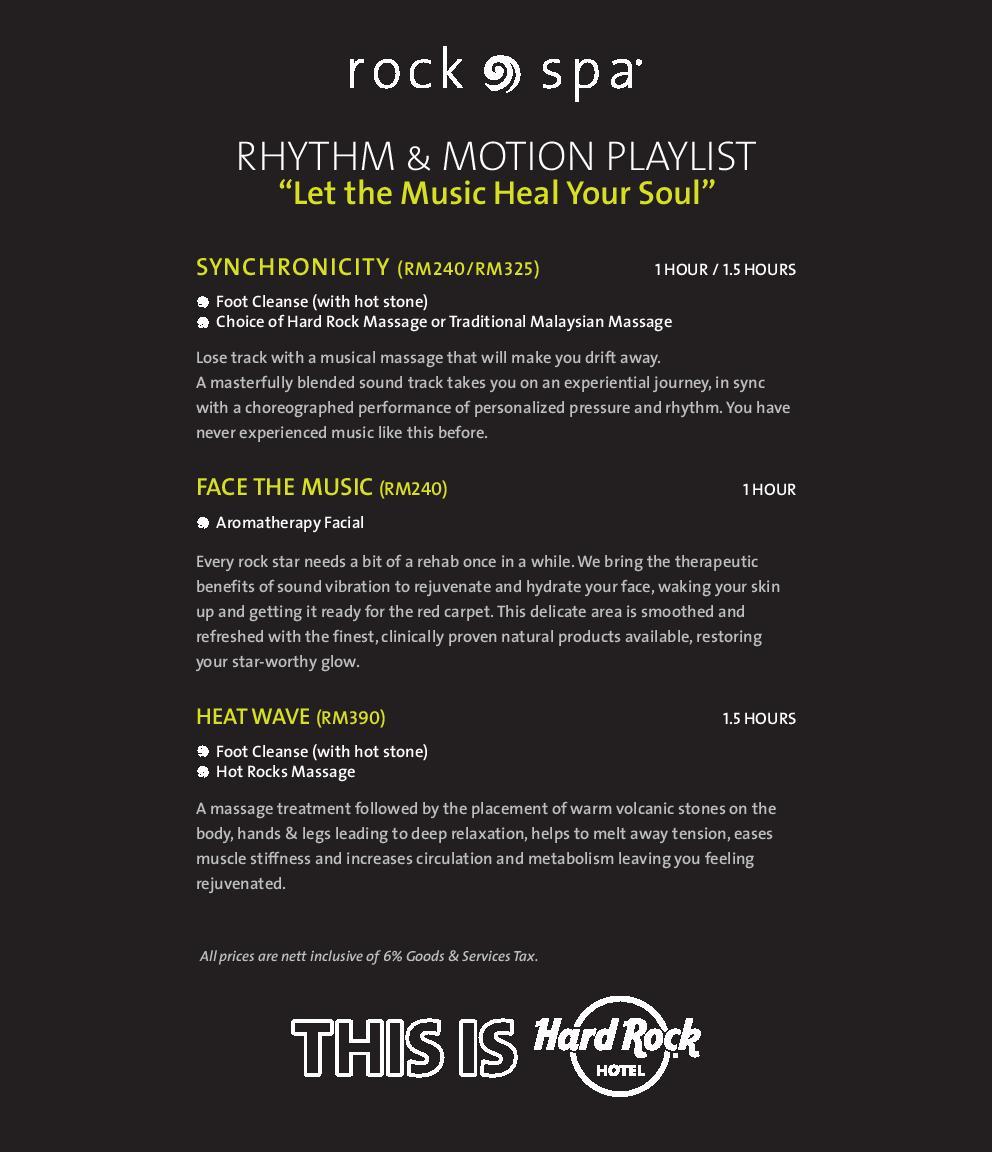 You would also be given another option to choose the type of massage oil you would want to utilize during your massage session such as Balance (detoxification: rosemary + orange + basil), Energize (relieve muscle stress: ginger + grapefruit + eucalyptus) or Chill (relaxation: lavender + geranium + cedarwood).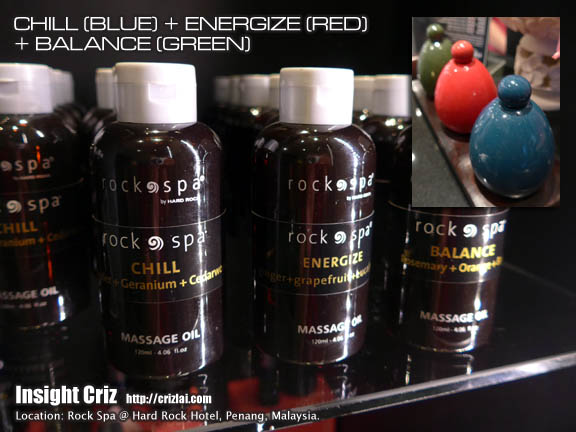 As I'm always down with muscle stiffness and back pain due to my hazardous working style, I opted for their Heat Wave package plus the usage of their Energize massage oil. Firstly, as part of their Etiquette Rules, all spa treatment seekers had to change to their provided "disposable" undergarments. It felt like putting my "ahems" into an airy recycle bag~ LOL~ 😛 However, you don't have to worry as you are in the good hands of the skilled therapist as he/she would always ensure comfortable and proper draping procedures to protect your privacy. Other Etiquette Rules include punctuality (at least 10 minutes earlier) before your scheduled appointment, no inappropriate behaviors and the advice of not bringing valuables into Rock Spa. The treatment room would also a wardrobe for keeping your belongings, a basin with mirror, drinking water, comb, hair clips, etc at your disposal.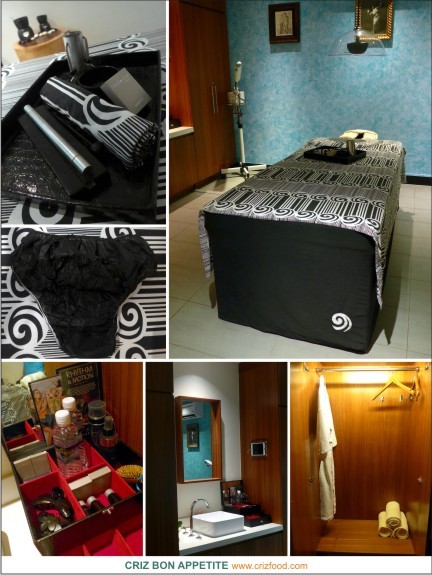 The spa treatment was remarkably an out-of-the-world experience, none that I've encountered through my various spa treatments. It started off with some soothing yet TREBLE based beats from the overhead semi-sphere like space-age musical source with ripples of BASS slowing seeping into the body with mild vibrations via the massage table. Wow! This is the kind of therapeutic massage I've been seeking for a long time! I was in such a relaxed and comfortable atmosphere that I almost dozed off in zero-stress mental state. The music emitted which I presumed had a balance of frequencies such as Alpha, Beta, Gamma, Delta and Theta waves indeed churned out the best in me – energy wise, alertness wise, creativity wise, memory wise and more. My brain cells were totally revitalized and I had a great sleep that night. On the other hand, the Vibration Therapy via the massage table did improve my muscle soreness and my body felt more relax and not in such a tense mode as it used to be. Bravo to the latest spa treatment technology brought in by the Hard Rock Hotel, Penang. My therapist, Vixin, also did a great job in rejuvenating my body with her gentle yet dedicated touches by the mode of hot volcanic stones. Not only were her steady flowing strokes pinpointed all the muscle sores on my body, she did put in the extra effort in soothing the sinus issues I had on that day. Thank Vixin, you are my savior. I would say those volcanic stones do have extraordinary therapeutic energies stored within. With right combination of heat and oil, I can feel that some of my sport related injuries got better and I'm now more energized with a better blood circulation. Moreover, with such a relaxing treatment, I'm now quite stress-free. Thumbs up! Another of their product which the therapist used on me was their Eye Pillow, a pillow filled with flax seeds with a light spray of their Lavender Essential Oil. For those who are suffering from sleep issues, it would be great if you could purchase the products from them. Not only was the freezer-chilled pillow soothed the lethargy eyes, the scent from the lavender oil relaxed my mind and pushed my mental and physical states towards Dreamland.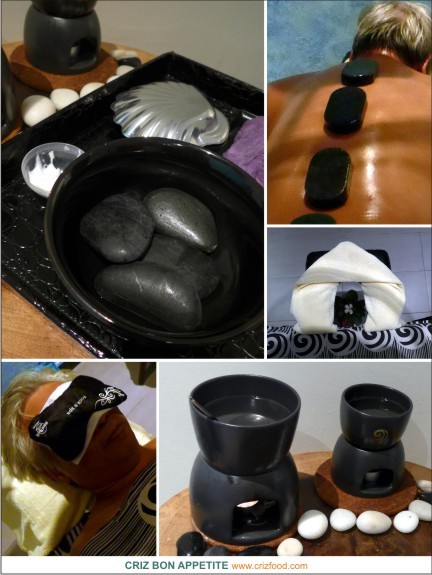 Overall, I had a great session at Rock Spa as my assigned therapist, Vixin, was skillful in her job and was tactfully knowledgeable in explaining all the processes in the treatment. If you were to ask me to recommend a spa treatment package, I will still choose the Heat Wave Rhythm & Motion Spa Treatment. Though it's the most expensive package at RM390nett (1.5hours), it's the most practical one to go for especially when you have gone through years of stressful life without ever finding time in rejuvenating your body to stay healthy for years to come.
Please call +604-886 8071 to make your reservation at least 4 hours prior to your appointment as Rock Spa would need adequate time to prepare to ensure your memorable spa experience. For more information on their other spa packages, you can check out their full spa menu as well as their current promotions with some great bargains.
The Rock Spa is located at the left wing of Hard Rock Hotel Penang. Upon entering, just head for the nearest car park on your left and then follow the left side of the building until the furthest end near the beach area. Alternatively, you can walk into the main entrance of the hotel and head towards the swimming pool area and then walk through a pathway of sands towards the left side of the premises. My advice would be using the former route to avoid getting pebbles of sands on your shoes.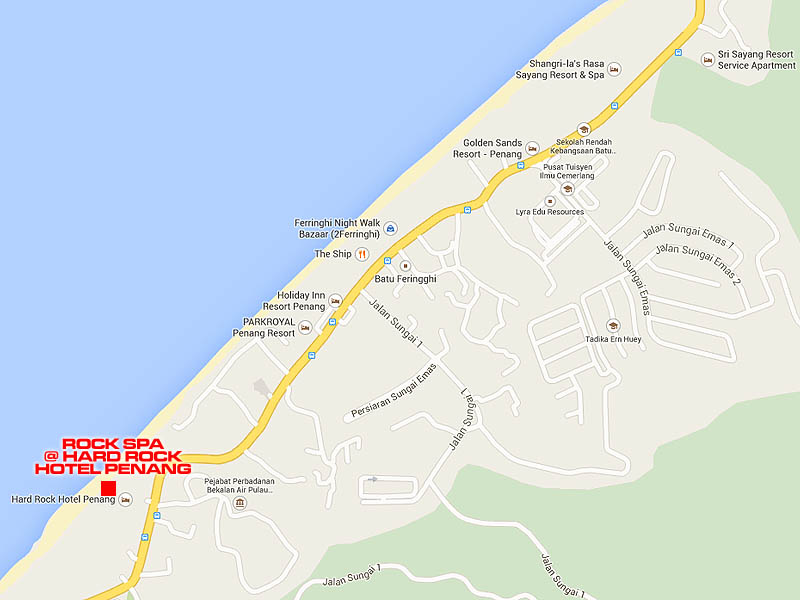 Name: ROCK SPA @ HARD ROCK HOTEL PENANG
Address: Batu Ferringhi Beach, 11100 Penang, Malaysia.
Contact: 604-886 8071
Business Hours: 9.00am-9.00pm
GPS: 5.467659, 100.240869
RATING:
Ambience: 8/10 (1-4 cheap, 5-7 average, 8-10 classy)
Pricing: 7.5/10 (1-4 cheap, 5-7 average, 8-10 expensive)
Service: 9/10 (1-4 bad, 5-7 average, 8-10 excellent)
About Hard Rock International:

With a total of 201 venues in 64 countries, including 155 cafes, 21 hotels and 10 casinos, Hard Rock International (HRI) is one of the most globally recognized companies. Beginning with an Eric Clapton guitar, Hard Rock owns the world's greatest collection of music memorabilia, which is displayed at its locations around the globe. Hard Rock is also known for its collectible fashion and music-related merchandise, Hard Rock Live performance venues and an award-winning website. HRI owns the global trademark for all Hard Rock brands. The company owns, operates and franchises Cafes in iconic cities including London, New York, San Francisco, Sydney and Dubai. HRI also owns, licenses and/or manages hotel/casino properties worldwide. Destinations include the company's two most successful Hotel and Casino properties in Tampa and Hollywood, Fl., both owned and operated by HRI parent company The Seminole Tribe of Florida, as well as other exciting locations including Bali, Chicago, Cancun, Ibiza, Las Vegas, Macau and San Diego. Upcoming new Hard Rock Cafe locations include San Juan, Lagos and Busan, South Korea. New Hard Rock Hotel projects include Daytona Beach, Dubai, Los Cabos, Tenerife, Abu Dhabi, and Shenzhen and Haikou in China. For more information on Hard Rock International, visit www.hardrock.com.
I'm thirsty for a drink now. Would you be kind enough to treat me?