I'm sure the name Perfect Food Manufacturing Sdn. Bhd. might not ring a bell in the minds of many consumers but the name "Julie's" would. The company is actually behind all the Julie's biscuits products sold in more than 60 countries throughout the world. During the recent "A Date with Bloggers in Melaka" event organized by 1asiafoodguide.com and bestmelakaguide.com, we had "A Date with Julie's". Romantic isn't it? Well, it was as we got up close and personal with Julie's production processes. LOL! Foreign bloggers from Singapore and Philippines joined the Malaysian bloggers team from as far as Kuala Lumpur, Penang and Johor Bahru gathered under one common roof for the first time to have a better understanding on the mission and vision of this biscuit manufacturing organization. The company's motto "Baked with Love" says it all as they sincerely did share out their lovely bakes from the heart~ 🙂
From a humble beginning more than 3 decades ago, the brand Julie's has today become a well known household brand by winning many distinctive awards such as the Superbrands Award, Putra Award and Asia Excellence Brand Award, to name some. Throughout the years, the company has also received numerous certifications such as the ISO 1901:2000 (design, modeling, manufacture and delivery of products & services), HACCP (Hazard Analysis & Critical Control Points), HACCP (Ministry of Health), OHSAS 18001 (British Standard for Occupational Hazard & Safety Management Systems), GMP (Good Manufacturing Practices), ISO 22000 (interactive communication, system management, prerequisite programs & HACCP principles) and the latest being the HALAL (permissible food based on Islamic law) certification.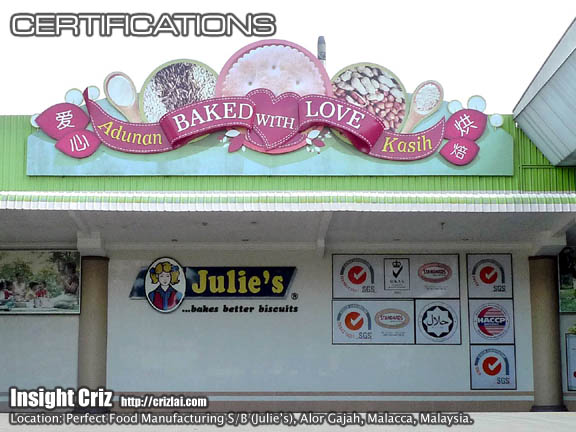 After a short briefing on the company's profile by Mr. Ng Teng Chai, General Manager of Perfect Food Manufacturing Sdn. Bhd. (Julie's) and staff, we were then taken on a tour to the production line. As there was a rule against any recording in the production room, I'm sorry to say that there would not be any photos available here to share out but I'll try my best to get every detail in here as possible. As food safety and hygiene are extremely important in their daily operations, we were required to dress up with protective gears from head to toe. This is one of the standards set to ascertain all activities carried out within the premises have the required quality and safety at all stages from primary production through processing, storage and distribution prior to reaching the consumers. Even with the "bathing cap" to prevent hair droppings, mouth piece to prevent unnecessary bacteria, below knee covered overcoats and shoe covers to prevent foreign matters, we were also required to wash our hands with anti micro-organisms hand lotion and rolled with adhesive tape prior to entering the production room. Upon entering the room, we were again asked to sanitize our hands with some antiseptic lotion. That's how serious Julie's is in hygiene to ensure their food safety.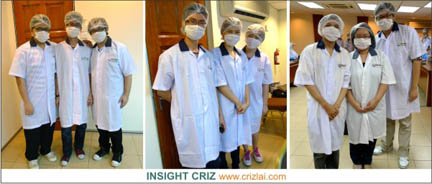 Here's a group shot of the future "operation room surgeons and nurses". LOL!
Upon entering the production room, you can feel the intense humidity from the long line of conveyor belt baking ovens. We were shown all the stages of producing the aromatic biscuits, from ingredients weighing, mixing, fermentation, forming, baking, cooling, metal detection, sandwiching, wrapping, weight checking, cartooning and right up to storage. Thereafter, the end products would be dispatched to respective retailers before being sold to consumers. Below is the summarized overview of the whole procedures.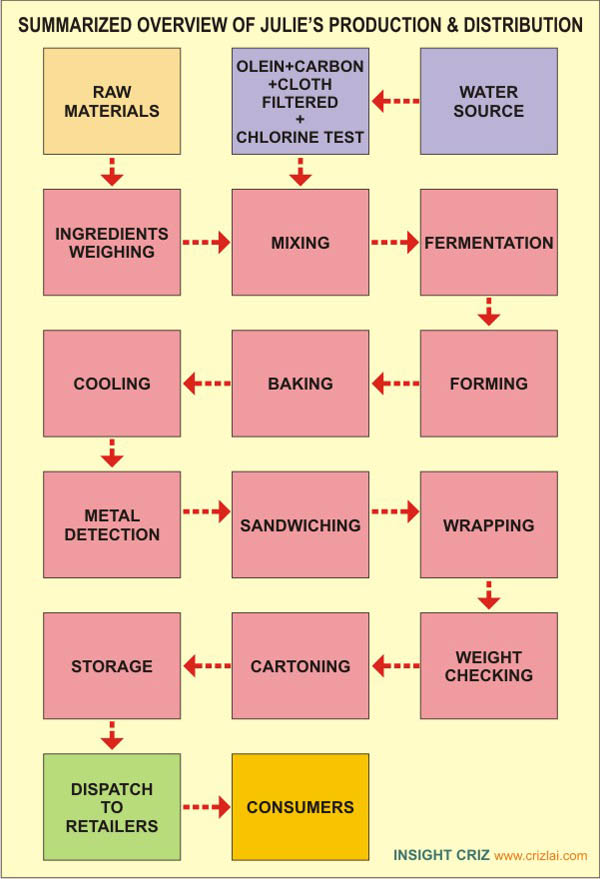 The end products would look like these little packages with crunchy biscuits inside. In the production of these biscuits, no preservatives have been added. Only permissible natural colorings have been added and these colorings are ten folds costlier than artificial coloring. Anything displayed on the shelves for more than 9 months would be taken back to ensure the freshness of all Julie's products. Rejected products would not be resold on the market place, resulting in roughly a million ringgit worth of product being destroyed yearly.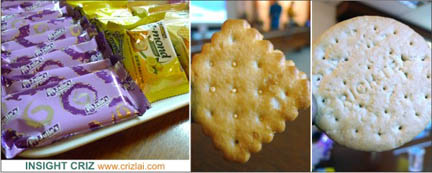 Perfect Food Manufacturing Sdn. Bhd. (Julie's) produces 4 types of biscuits, namely crackers, sandwiches, wafer rolls and assorted biscuits in tins. You can purchase any of these products practically off the shelves in any of the leading supermarkets, hypermarkets or even grocery stores throughout the world. More varieties such as the upcoming productions of Sultana Biscuits would be available soon. Do keep a look out for the launching.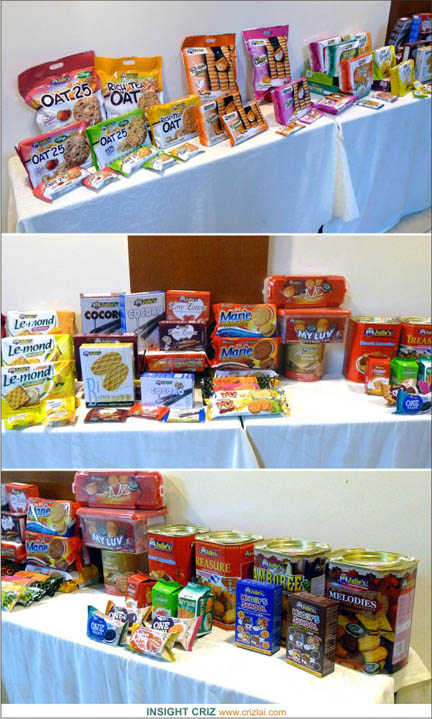 On top of their "Aloha" principle in instilling a clean and harmonious working environment, Perfect Food Manufacturing Sdn. Bhd. (Julie's) also carries out their Corporate Social Responsibility (CSR) by sharing their successes with the community by executing their "Share the Love" campaign frequently. Apart from rewarding those "unsung heroes" with some little tokens of appreciation for working at odd hours or days to have a better living, they also have many sponsorships and charity drives to help out those underprivileged society. It's all about friendship and solidarity in expressing "LOVE" as one entity in humanity. Some of their achievements and events can be viewed at their official website.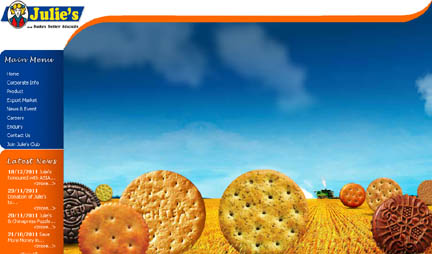 After a brief lunch at the cafeteria, we adjourned to the main entrance of the factory and took a group shot of the Julie's management with "A Date with Bloggers in Melaka" participants.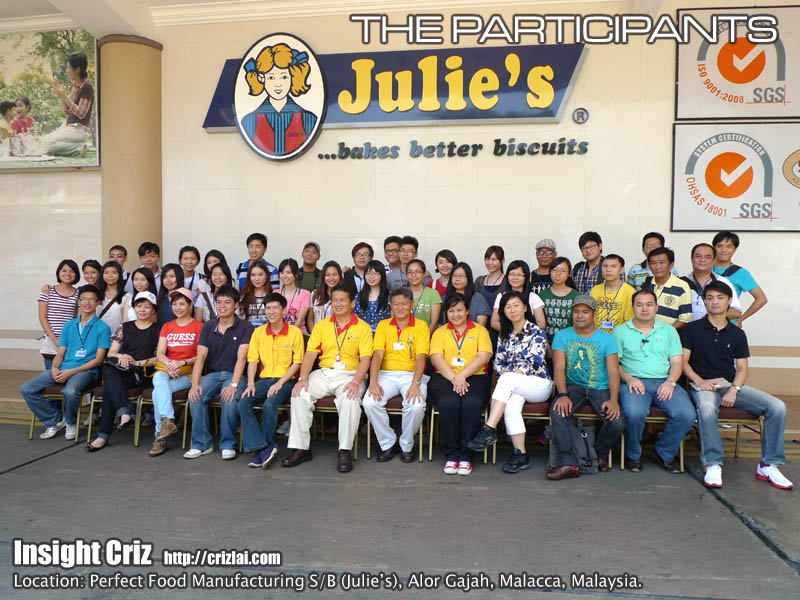 Eventually, we had to bid farewell to the management of Julie's with Mr. Ng Teng Chai, General Manager of Perfect Food Manufacturing Sdn. Bhd. (Julie's) personally handed out some giveaways for our memorable visit to the factory.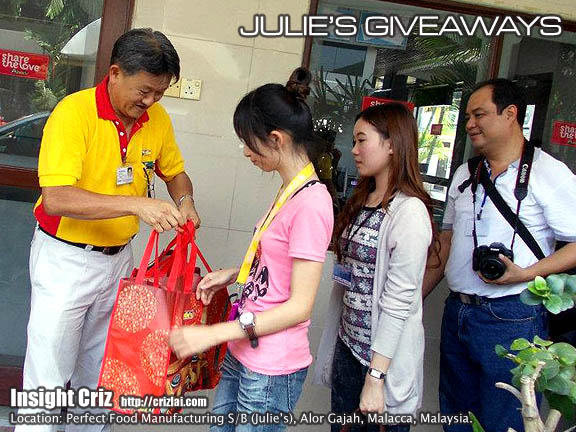 Coincidentally, I have a true story to share out here. I'm a pet lover and I owned 5 cats at home now. Johann L was the latest stray cat to be adopted into the J Family Kitties on 10 May 2012, barely 9 days away from my trip with "A Date with Bloggers in Melaka". He was all run down with injuries sustained from some dog bites and is still recovering from those bad wounds. I can't leave him there to fend for himself right? Our first encounter was with Julie's and he loves the biscuits ever since. No doubt human food would not suit animals for a long period of time, but I still do pamper him with small bits of the biscuits from time to time as it was that moment of fate that brought us together. What a lucky fella! 🙂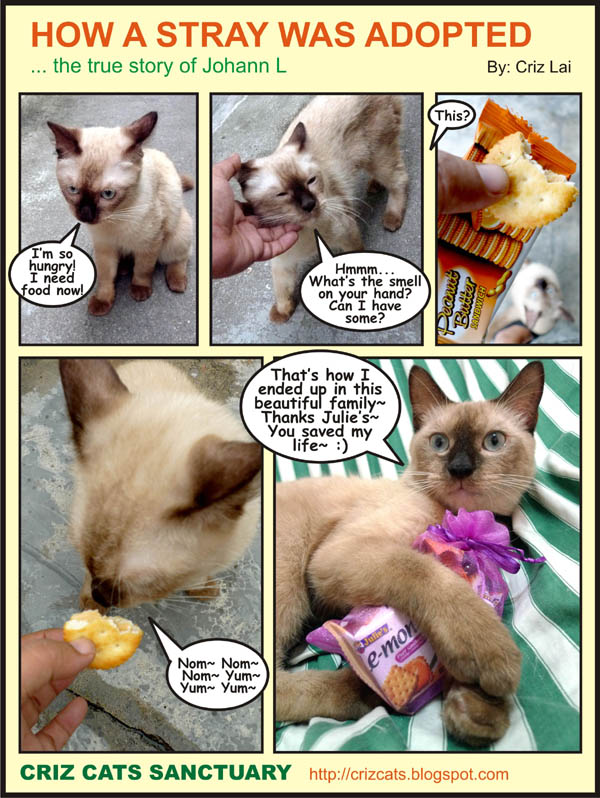 Lastly, I would like to thank to Perfect Food Manufacturing Sdn. Bhd. (Julie's) for sponsoring the event as well as giving us the first hand opportunity to witness the production line.
Name: JULIE'S @ PERFECT FOOD MANUFACTURING SDN. BHD.
Address:
AG 6876 Jalan Industri 4, Kawasan Perindustrian Alor Gajah,
78000 Alor Gajah, Malaysia.
Contact: 606-556 1401
GPS: 2.361314, 102.20007
Website: http://www.julies.com.my
I'm thirsty for a drink now. Would you be kind enough to treat me?