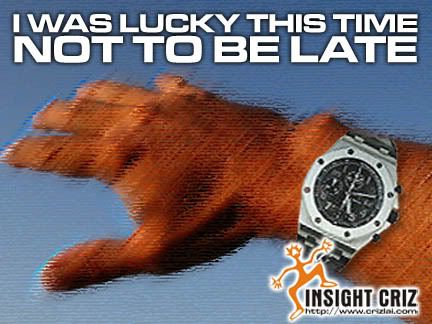 Have you experienced being late for an important appointment that would cost you your job or a multi million dollar deal? Well, I had but it was not as serious as the two mentioned earlier. I was to attend a birthday lunch that I had arranged for my Dad and I was almost late if not for my alertness. Thank goodness gracious!
I'm a person who would keep to my appointed time but somehow my watch had failed me again. The wonderful thing is that when I brought my watch for a fix, the watch repair person could not find any faults in the mechanism. I'm still wondering how the time on my watch could have slowed down for an hour or so and yet continued to be alive after that. Another thing that surprised me was that it would happen once every three to four months although I had the batteries replaced with brand new quality ones. This is still a mystery!
I'm so attached to my watch that I could not go without it as it was a gift from a personal friend. But to face the little hiccup that it would bring every few months could be rather risky, especially when it would be an important meeting that I had to attend. I had sent the watch to be monitored for a few weeks many times but it came out with a clean bill each time. I guessed I would have to find other alternatives as misjudging time could be a matter of life or death situations. Anyone would like to present me with the Audemars Piguet Royal Oak Ginza Limited Edition? I heard that it's one of the best around the world.
I'm thirsty for a drink now. Would you be kind enough to treat me?