Written by crizlai on Feb 7th, 2016 | Filed under:
review
It might be a privilege to own a car for the convenience of travelling around whenever and wherever you want to. However, at times you feel like getting some pampering being driven rather than being the driver due to many factors such as massive traffic jams, encountering reckless drivers, finding parking spaces, vandalism to your car and more. With UberX lowering its rates at 3 cities (Penang Island, KL & JB) in Malaysia as at 18 January 2016, I've decided to go all out for the #UberChallenge with its #LeaveYourKeysAtHome basic rule to find out what would my #UberExperience be for the week.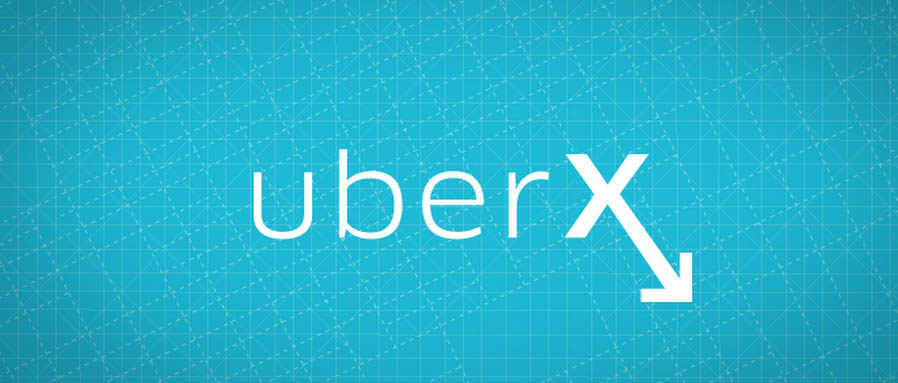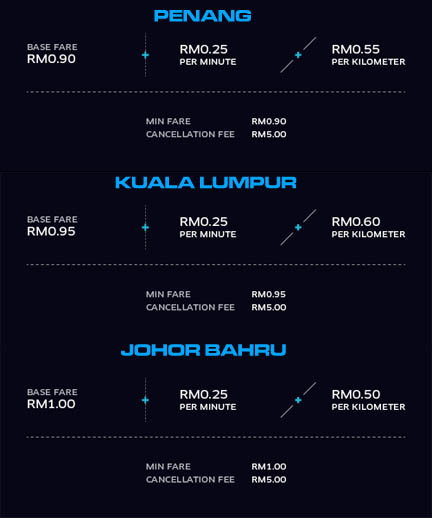 During my earlier experience when I was travelling from E&O Hotel Penang to Hard Rock Hotel Penang, the fare was RM24. If you use the same scenario and base on the current rate of RM0.90 (Base Rate) + RM0.55/km + RM0.25/min, the cost would be RM20.55 only. Thus, you would save around 14.38% compared to earlier this year. The amount saved might not be so significant but in the long run, you would still save a lot.
Base Fare (RM0.90) + RM10.33 (18.78 x RM0.55) + RM9.32 (37.28mins x RM0.25) = RM20.55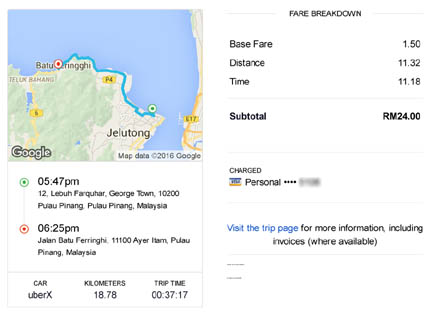 To share my #UberExperience further, I've decided to get two more friends to join me in my little Uber night adventure. It could be due to my area not being in the "hot spot" areas or maybe the demands overwhelmed the supplies, the first message that popped up on my mobile screen was my first experience, though I have never experienced that during day time. There was a "surge pricing" popup of 1.5x higher fare which was not exorbitantly high and luckily it lasted only 2 minutes. I only found out the reasons behind the surge as it was Uber's way to encourage more drivers to be on the road. Anyway, it's your decision to accept the surged pricing if you are rushing for time. However, I opted out and eventually my Uber driver was just 10 minutes away. Well, 5 minutes more waiting time than usual was not so bad after all. The best part of travelling via Uber is that the driver would call you up every time to get your exact pickup point. That was so cool!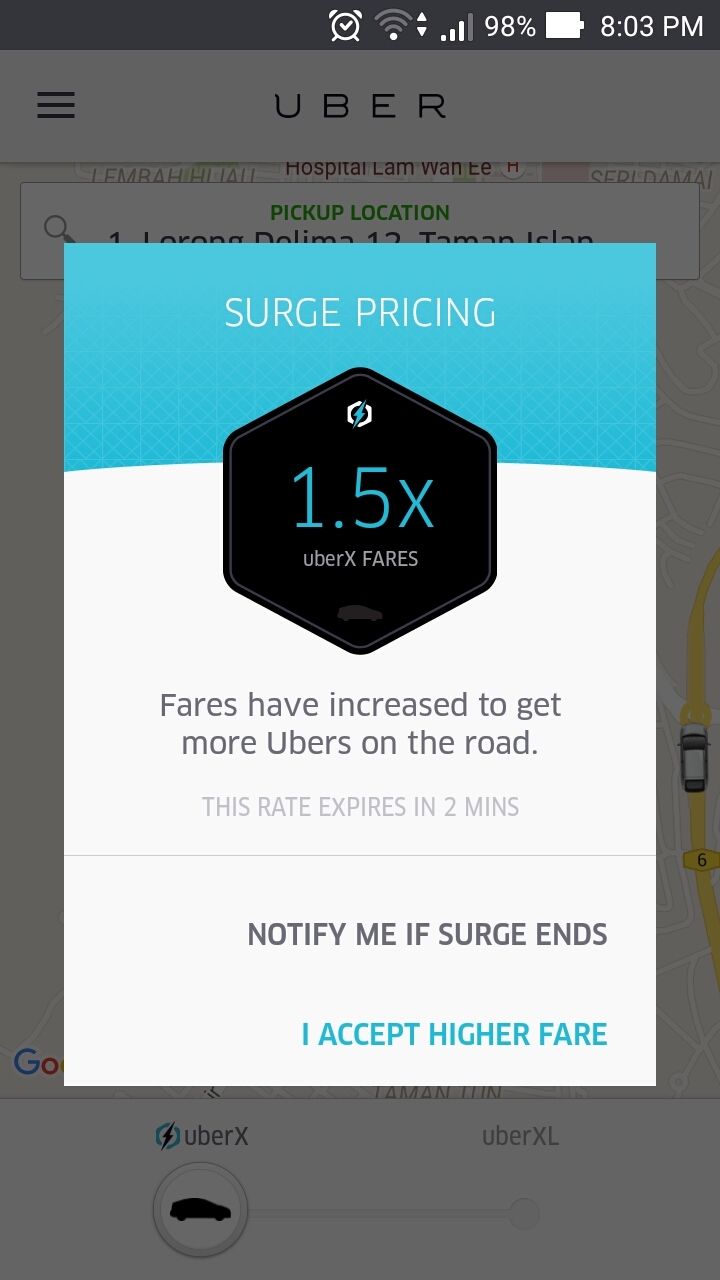 When the driver arrived, I was impressed with the car. Unlike my luck of getting Myvi most of the time, I was going to be chauffeured comfortably via a sporty Kia Cerato.
The driver was so helpful to assist in picking up the luggage as I was sending one of my friends over to the KTM train station at Mainland Penang. Since I would be passing by my friend's house on the way to the Penang Bridge, I passed her a gift. So, it meant that you can practically do whatever you like on any Uber trip since everything would be calculated based on the mileage and time you utilized via Uber.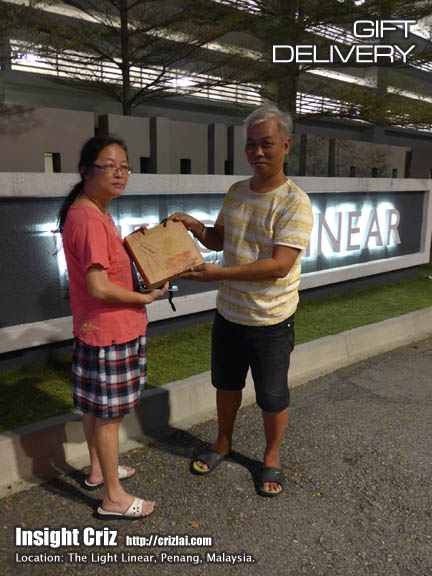 We continued our journey thereafter on a busy and jammed Friday night and reached the KTM Train Station 50 minutes later. The total fare was RM35.49 which was inclusive of RM7 for the Penang Bridge surcharge. I was surprised to be slapped with the extra RM7 since there would never be any toll involved if you were to travel from Penang Island to Mainland Penang. Maybe this was one of the protective measures Uber executed to protect its drivers from losing out when travelling back to the island after their job.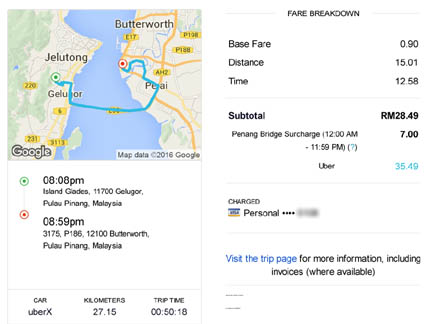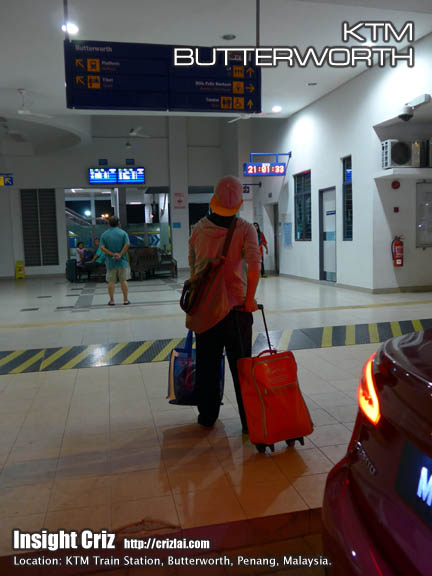 To test out on the news I heard about Uber not having many drivers on Mainland Penang, I've decided to hold back my driver and requested him to off his app. This was the result on my mobile screen. Gosh! Uber should really encourage more drivers over there. There was practically none around my vicinity which was quite a hot spot area for people disembarking from trains and ferries.
Since I managed to keep my driver, my friend and I decided to go for a wacky food trail in search of the much heard best Duck Egg Char Koay Teow in Bukit Mertajam, Penang. However, we had decided to "share cost" for this expedition. The calculation was a bit different. Due to the lack of Uber drivers for Mainland Penang, the base fee was at RM1.50 and there was an additional charge of RM1.70 for splitting fees. Eventually, the total cost was RM19.06, meaning each of us was charged RM9.53 for the trip. I quite like this feature as we could split fare without any hassle at all. Moreover, the more people you have in the car, the lesser each person has to fork out. Well, you can have a maximum of 4 passengers (excluding the driver) in the UberX car. Anyway, we treated the driver with a large plate of Duck Egg Char Koay Teow with extra Duck Egg Omelette all for RM5.50nett. It was heavenly good. (Telur Itik Char Koay Teow GPS: 5.351708, 100.441728)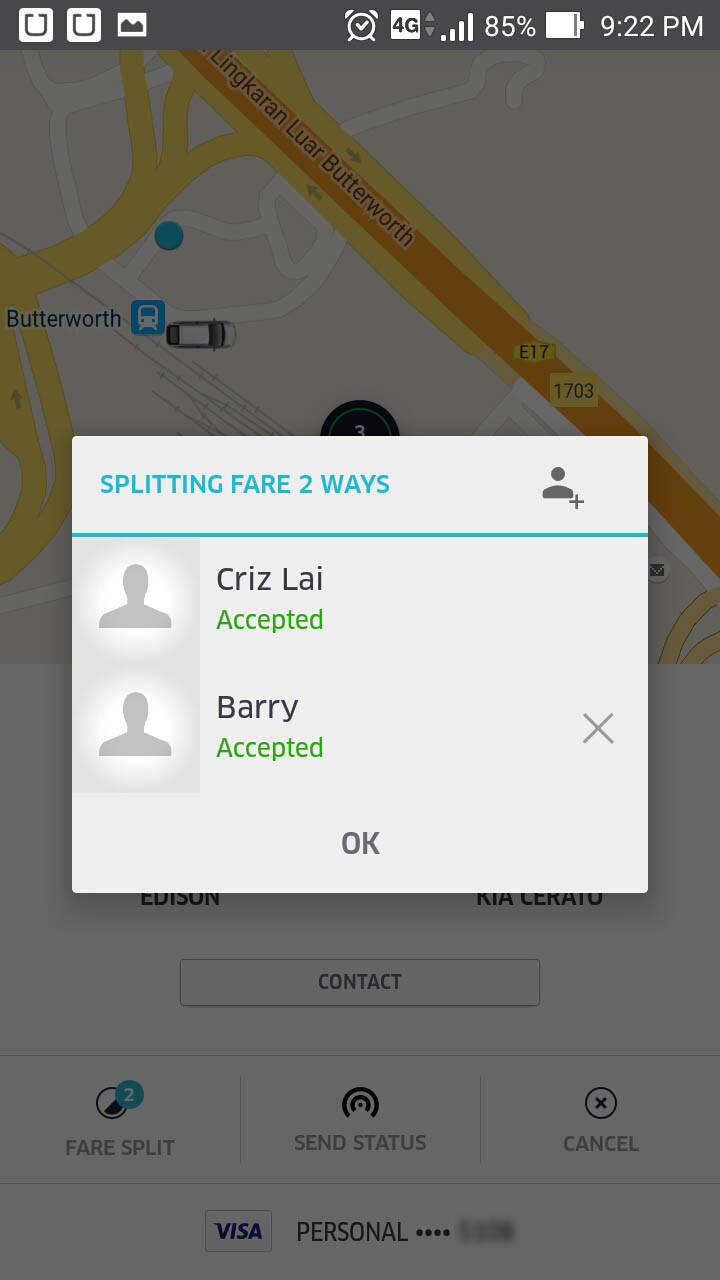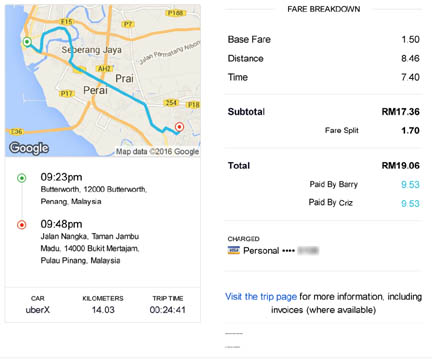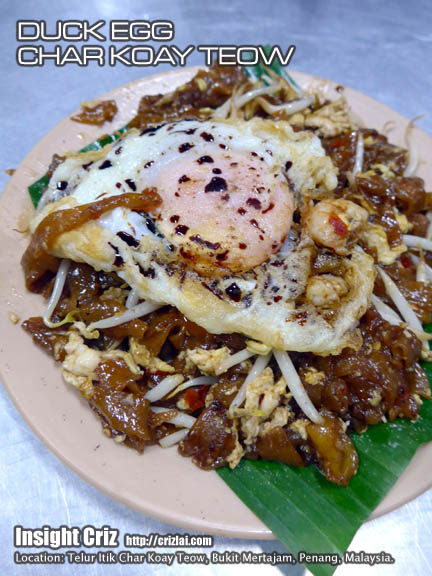 Do you know one thing bad about food enthusiasts? We just could not get enough of good food~ LOL~ 😛 Eventually, we decided to head back to the island in search of the best crispy chicken burger at Burger Ayam Goreng Njoy (GPS: 5.277606, 100.270582). It was practically another long 40 minutes journey back to the island and towards Batu Maung district after the Penang International Airport. With all the comfort and soft jazzy music, I dozed off during the journey~ LOL~ 😛 The base fare for Mainland Penang of RM1.50 still applied and there was also a RM7 surcharge for travelling via Penang Bridge. The total cost of RM34.43 for a 33km+ distance was rather fair too compared to regular taxi charges of RM50-RM60. However, upon reaching, the stall was closed for no reasons. I only managed to find out that some of the members were down with the seasonal hot weather sickness. Anyway, I would still find one find day to revisit as I so miss their Twin Special with 2 big pieces of fried chicken, a piece of cheese and oozy black pepper sauce, in between strawberry flavored burger bun, all for RM9.00nett per set. If you love sloppy burger with amazingly delicious crispy boneless chicken, you should check them out.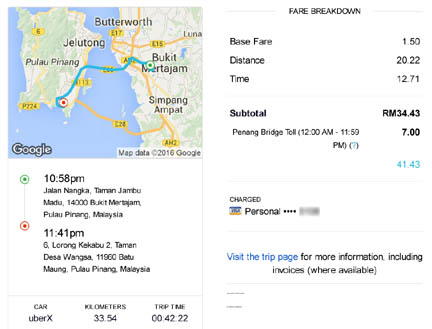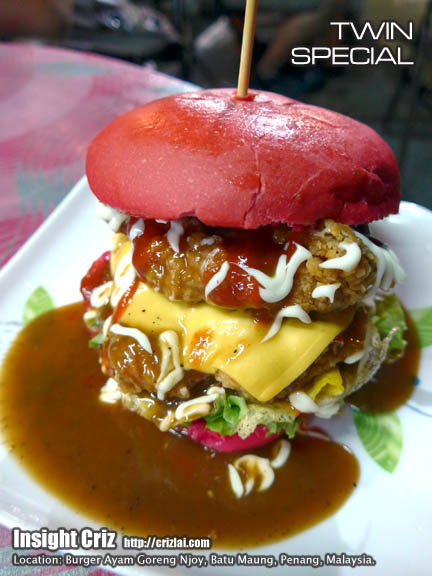 Missing out the burger did not deter us from finding more goodies. I was glad that even at such hour, the base rate went back to RM0.90 on the island. Eventually, we ended up at Nois Café (GPS: 5.359750, 100.293510) for some coffee prior to heading home. If you love a quiet place to chill out with great aromatic yet creamy coffee up to 1.00am, you should check them out.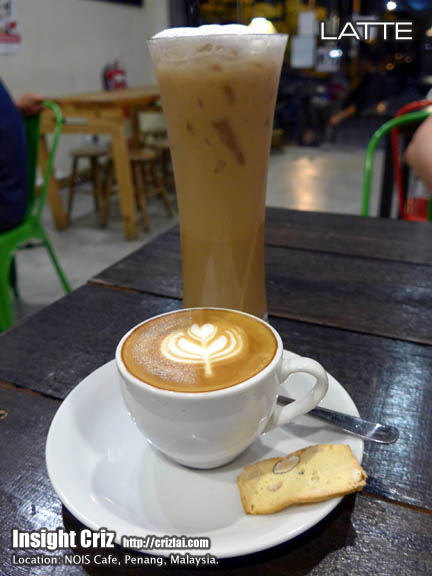 We drank until the café closed~ LOL~ 😛 It merely took about 10 minutes to reach my home all for less than RM6.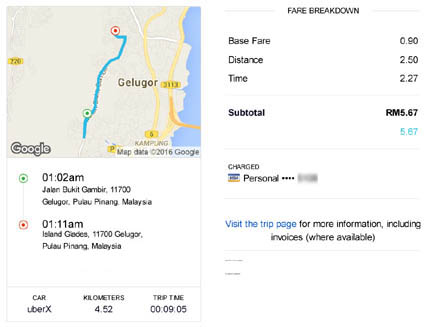 It was already late and I was quite sleepy with all the travelling. I managed to get the Uber driver to send my friend back to his hostel at YMCA. I don't even have to be physically in the car to be billed. Everything was paid via my credit card.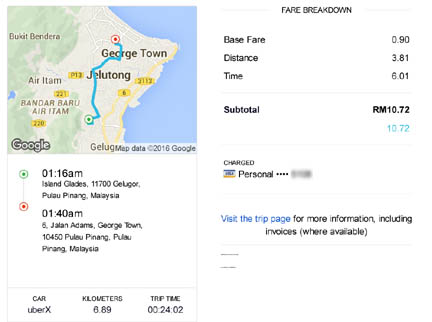 You can practically use the services of Uber for anything legal. I decided one fine night to utilize them for cheap and good "choo char" dinner with a bunch of friends. We headed out to Song Yen Seafood @ Kompleks Lebuh Nipah (GPS: 5.336476, 100.293001), directly opposite the Penang Original Kayu Nasi Kandar, for my favorite Ham Yu Fa Lam Po (Salted Fish Pork Belly Claypot) and other home-style dishes for barely RM40nett. At least, I don't have to worry about finding parking space which could be quite limited there or getting summoned by the super hardworking municipal parking staff~ LOL~ 😛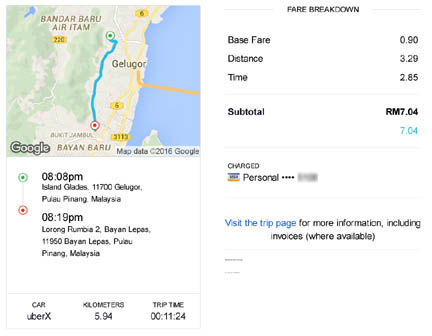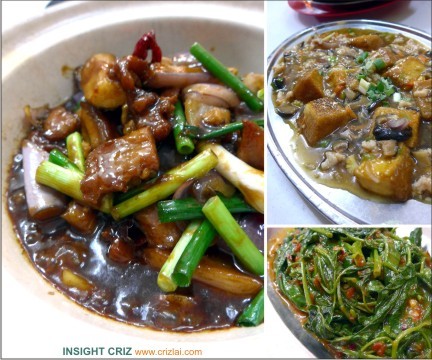 Since we still have some time before Queensbay Mall closes, we went over to Aeon Jusco to do a bit of grocery shopping. The number of cars queuing up to find parking space, was quite scarily long even though it was slightly over 9.00pm and the mall would close at 10.30pm. I guessed many people were still hunting for super Chinese New Year deals. Luckily, I took UberX there and avoided many hassles. Moreover, I was also lucky the queue at the cashier was not as long as I expected.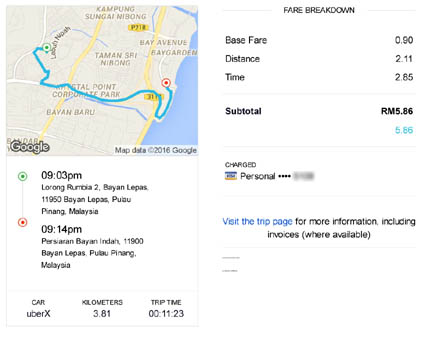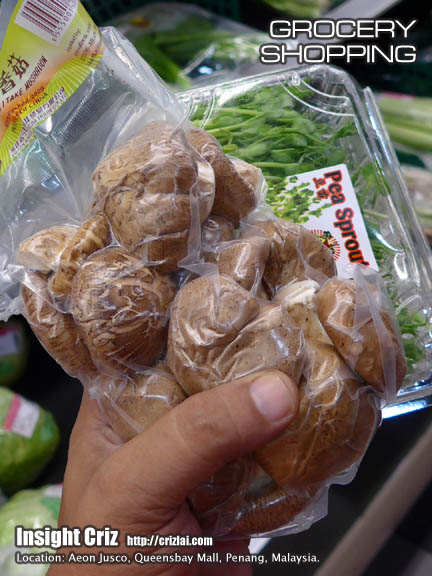 Since it was not so late yet and we decided to head to Coffeeric (GPS: 5.322076, 100.282651) @ Elite Avenue for some late supper. You should try their Salted Egg Cheese Cake and light roasted coffee there.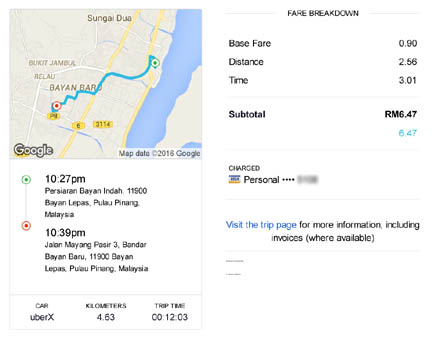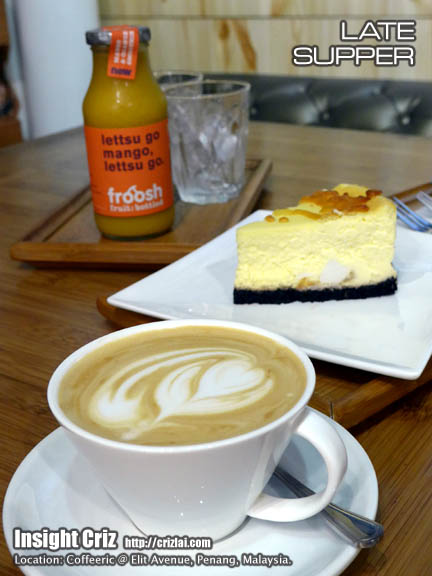 After a hearty supper, we headed back to my house where my friends parked their cars.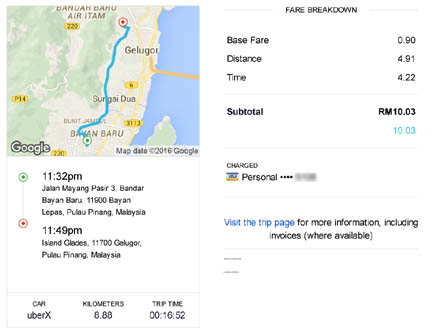 As I mentioned earlier, Uber is having a cashless system as everything would be charged to your debit/credit card. The system is so versatile that I can practically use it for any legal purposes such as fetching my brother back home when I was too lazy to drive all the way to the ferry terminal at Weld Quay~ LOL~ 😛 Eventually, he got home safely and it wasn't much hassle at all. All I need to do was to pin point my pickup location and request for UberX service. Of course, you would at least need to know what the pickup person would be wearing and which landmark would he/she be waiting or else you won't be able to advise the driver when he/she calls you up to confirm the location. The whole journey just cost slightly over RM8 when a normal taxi would cost roughly between RM20-RM30. You certainly saved a lot using UberX compared to taxi.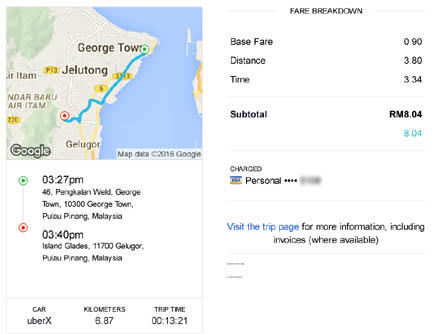 Overall, I quite like all the Uber services as it saved time and money and the drivers are well trained to provide as courteous services as expected. Moreover, you could use their services as creative as some cases I have heard which never even came across my mind at all. Some companies do engage them to deliver/collect important documents/items as it would be more promptly than most courier services. The most creative case I have heard was that someone delivered lunch to another via this service~ Wow! I would marry him immediately if I were to be his girlfriend~ LOL~ 😛
HOW TO APPLY?
Basically you need only two things – a smart phone (IOS or Android) and a valid credit/debit card. Just download the respective app as per link stated and sign up with your contact information. Fill up your credit/debit card information and register. Upon approval, you can use the app straightaway. It's as simple as that.
FREE TRIAL FOR FIRST TIMER:
Just go to http://www.uber.com/invite/crizl4ue and apply to be eligible for a one-time off RM10 free ride. Any ride above RM10 would be deducted from your credit/debit card.
I'm thirsty for a drink now. Would you be kind enough to treat me?