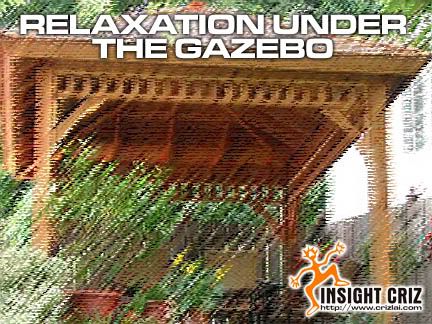 It has been known that some homeowners have been under some sort of dilemma as what to do with the dull space they have in their garden. To fill the large place up with lots of plants might not be practical after all as it would involve a great deal of care with lots of sweeping, watering and maintenance. With a bit of sentimental touch by mixing and matching some tiles and constructing certain structures such as a swimming pool and/or a gazebo, things might be a bit more relaxing and interesting. This move would provide easy maintenance and it also literally gives your garden an additional "outdoor room".
Gazebos are among the prettiest additions you will ever make to your landscape. With careful planning, tasteful design, well placed furniture and potted plants, your dull looking garden would be instantly transformed into your little sanctuary, giving you the best time of your life. Not only would your peak-quality western red cedar gazebo beautify your garden, it would be the ideal place for some relaxation away from the hustle and bustle of your office life.
There are so many styles of gazebos to choose from, ranging from Victorian, Monterey, Carlisle, Tattle Creek, San Cristobal, Coventry or even Montpellier. I personally prefer the Montpellier design due to the frequent hot weather here. This style of gazebos looked elegant and spacious, while providing the desired relief from the beating rays of the sun. Won't it be nice to just laze around, sipping your favorite drink and enjoy a stress free vacation right in your own garden?
I'm thirsty for a drink now. Would you be kind enough to treat me?