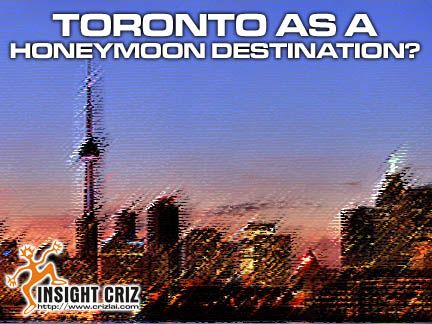 One of my friends got married recently and had decided to spend his honeymoon in Toronto, Canada this coming month. That's a great choice as Toronto being the most populous city in Canada would surely provided the newly wedded couple with endless of sweet memories. After all, there sure must be some strong reasons why it was rated as one of the world's most livable cities by the Economist Intelligence Unit some time back. Obviously it must have been its city's low crime rates, clean environment, high standard of living and friendly attitude to diversity.
Upon landing on the beautiful city within the providence of the Ontario state with a nice coastline along the southeast of Canada, you would be greeted with the magnificent view of the CN Tower, an important telecommunications hub and a famous tourist attraction. As for those people with an interest in arts as well as the architectural structures of the Victorian era, some of the great places to visit would be the Distillery District, Ontario College of Art and Design, The Royal Ontario Museum, Art Gallery of Ontario or even the Gardiner Museum. I wonder if my friends were planning to laze about under some shades to admire the scenic view of Lake Ontario? HTO, an urban beach, minutes away west of Harbourfront Centre on Lake Ontario might be a good experience for them. A visit to the Toronto Zoo, one of the world's largest zoos or a back-to-school science project at the Ontario Science Centre would be great for them too.
With many more adventurous visits for them in Toronto, let's hope they would get a great hotel amongst the many Toronto hotels available in the downtown core. That's where all the happenings would be and they surely won't want to miss out all the entertainment and night life there.
I'm thirsty for a drink now. Would you be kind enough to treat me?