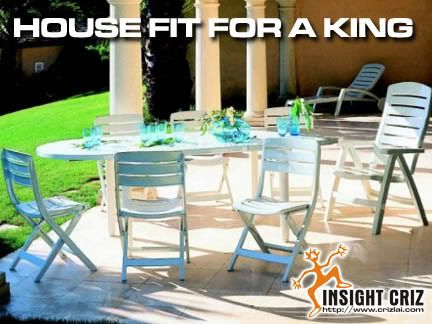 I
had just been informed that I would be joining a few of my former schoolmates a couple hundred of miles away for a gathering at the end of next month. This has come as a thrill to me as I have not been meeting up with any of them for ages since everyone has been busy with their own lives. What made me more excited is that we will be putting up in one of my schoolmate's castle-like bungalow. I have been there once and the whole place truly amazed me with his tasteful choice of interior as well as the exterior decorations. This former schoolmate of mine sure knows how to make his house fit to be lived by a king. After all, that is his expertise for being one of the top interior designers in the country.
Although the built-up area of the bungalow is not as big as I had exaggerated, he managed to utilize the available spaces and turned each and every corner of his house into style and beauty. In fact, he made his whole garden into such a clean and environmental friendly area that you can practically make it into your outdoor room. As you walk into the terracotta tiled pathway into the house, you can see a mini lily pond with a roman statue pouring a jug of water into it, a rattan swing with awnings, tasteful patio furniture designs, and some neatly arranged potted plants. The whole garden has been transformed into a sanctuary without any dull and tired corners. There is even a mini BBQ area with beautiful pastel shade deck chairs to laze about.
With the nice and ingenious way in creating such an appealing and functional garden, I do not think I will need to elaborate further on how beautiful the interior of his house is. The whole house is filled with ceramics and antiques which he had gathered during his trips throughout the world. I just could not wait for the gathering and I am sure I will be the first to be in his Jacuzzi bath for hours.
I'm thirsty for a drink now. Would you be kind enough to treat me?