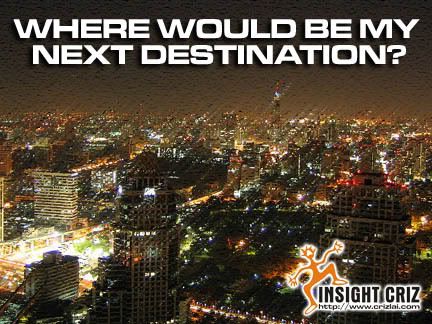 Believe or not, I have not even visited Bangkok yet although I have been staying within this region for many years. My next vacation destination should definitely be Bangkok as I can discover its inspiring beauty and endless charm. Bangkok is a place rich in cultural phenomenon, a shopping heaven for me who worship their latest fashion trend and a place where I can experience the taste of their culinary skills.
There are many splendid temples surrounding the city, including Wat Pho, the oldest and largest in Bangkok, which housed a 46 meters reclining Buddha as far back as the time of King Rama. On top of that, it would be a rare occasion where I can take some photos of the colorful floating market along the waterways, also known as "Venice of the East". If time permits, I would not mind having some romantic moments in a dinner cruise along the Chao Phraya River.
As for shopping, I surely won't want to miss out the Siam Paragon and Central World, two of the biggest and most luxurious malls in South East Asia. Siam Square should be another great place to hang about for great bargains. I hope I have enough energy left after the shopping spree for their night entertainment. One prominent feature in the night life in Bangkok is that almost all the pubs and discos are having live band performances. That would be a great experience as most of time we have DJs only.
A visit to a foreign country for vacation won't be complete if we do not try out their local delicacies. I for sure would want to try out their Tom Yam Kung (hot and sour seafood soup), Green Curry, Phat Thai (Thai-style fried noodles), Phat Kaphrao Mu (fried pork fried with basil leaves), Khao Niew Ma Muang (glutinous rice garnished with sweet coconut cream and ripe mango), Tub Tim Grob, etc. Gosh! My list will go on forever as I have always like Thai cuisine a lot.
Now I can't stop myself from thinking about my next vacation. Who else to blame but myself for finding out too many interesting things to do in Bangkok? LOL! Anyway, I will need to check on the validity of my passport and also to get travel insurance for my trip. Bangkok! Here I come!
I'm thirsty for a drink now. Would you be kind enough to treat me?