Written by crizlai on Apr 1st, 2009 | Filed under:
tips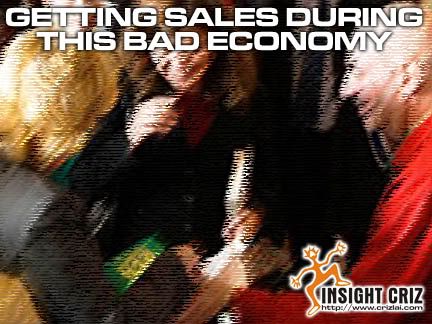 Ever since the Great Depression in 1929, there have been signs of another hardcore financial crisis in 2009, thus pushing the world to fall into another expected recession. The growth in the World Gross Product (WGP) is expected to slow down this year but many developing countries would still be able to have a slight increase in WGP. The reasons behind this sharp reversal is that most of these countries would rely on buying their own local products, thus the profit earned would be circulated within the country without involving too much of foreign exchange. Not only were they trying to help their local economy, they also buy local products for convenience, better taste and the environment.
With more and more people trying to help out their country's economy, sales of local products would be abundant. With so many choices available, there will surely be competitions amongst the locals to push their products at the lowest possible prices. This is when a sale person will have the most headaches trying to convince the distributor on purchasing their products as price would always be the main factor involved as most distributors would look into profitability rather than quality. That would be most obvious case during this recession period.
For anyone who had not gone through any formal sales training, he might not be able to cope to the demand of the distributors. Neither will he please his employer for not bringing in sales for the company. What would you do then? Would you reduce the pricing for your quality product just to please the distributors or would you stay stern to your pricing due to the quality and brand name? Well, either way will still work if you have the proper knowledge and skills to handle any scenarios. Do you have those?
I'm thirsty for a drink now. Would you be kind enough to treat me?