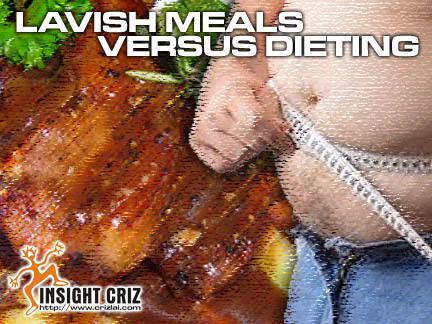 What would you do when are on a diet and you have a forth coming festive season where you would be having a lot of dinners and parties? Would you just sit down there and watch all the delicious food being passed around the table or would you jump in the fun and worry about getting fatter by the end of the celebration? I'm sure you would not miss your Mum's favorite cooking such as the Lamb Shank nor would you want to miss out her Double Chocolate Cheese Moist Cake.
This is the common question posed by most people on strict diet. To me, it all lies in the controlling power of a person. There's never a right or a wrong answer to whether a person can consume this dish or that dish. It should be a well balanced and complete diet. A meatless and sugarless diet may not be the ideal choice as it would drain your body of the energy to perform well in your daily activities.
You could still go for your Mum's home cook food but then you might want to consider reducing the intake of some of the other fatty dishes or sugar rich beverages such as BBQ bacon or Iced Honey Cappuccino. After all, how many times a year would you get to enjoy your Mum's home cook food when you are already having a family of your own elsewhere?
It's all within your will power to be self disciplined. If you are having 15 minutes of exercises daily, then go for an extra 10-15 minutes for the next few days. That would help to reduce the weight you have gained. Just make sure that you do not skip the fat burning and diet pill you are on during your eating spree.
I'm thirsty for a drink now. Would you be kind enough to treat me?