Recently, about 20 bloggers from Penang and Kedah were invited to CSL's Spice MI700 DroidPad preview at Gurney Plaza, Penang. As Android has been the next state-of-the-art gadget in the market other than the Apple's 10" iPad, all of us were very eager to learn more on what interesting features this 7" newly launched tablet has.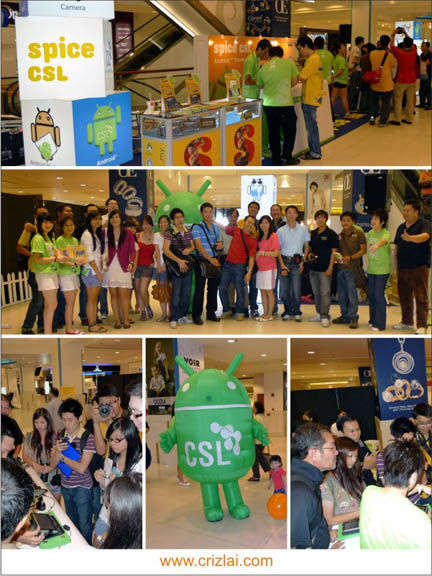 We were divided into two groups in order to get a more personalized preview and hands on experiences on the Spice MI700 DroidPad. This was followed by some feedback questionnaires by CSL and a quiz session to determine who has the most knowledge on the product. Eventually, all went home with some CSL souvenirs but one person was randomly selected to take home an extra item – a CSL Spice MI700 DroidPad worth RM1599. Well, two can change the life of a person. How true it was for our fellow blogger, Ms. Apple Tan (Mr. Steven Goh's wife), who was pregnant at that time. That's two, right? 😛 She emerged the lucky winner of the Android gadget with extra two black eyes on the existing two white eyes on the CSL mascot on the promotion brochure. Congrats Mrs. Goh! 🙂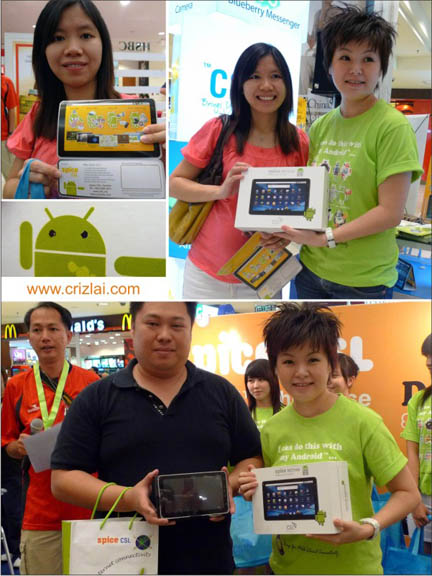 Now let's us study more in depth into the Spice MI700 DroidPad, a 7" tablet that runs on Android 2.2 Froyo, the latest mobile open platform developed by Google. It enables you work, play, shoot photos/videos/webcam/chat or even track your location with its in built GPS tracking device. It also supports a regular sized SIM card and is capable of supporting quadband networks such as EDGE, GSM, UMTS and HSDPA. It also has a WLAN 802.11 b/g. Measures at merely 179.4mm H x 110mm W x 11.5mm T and weighs at roughly 410gms, the tablet came with a long lasting 3240 mAh Li-Polymer battery. It's equipped with Bluetooth V2.1 + EDR support, front facing VGA camera and and a back facing 3MP autofocus camera, which if by connecting to a Bluetooth headset, you would be able to make voice calls or video conferences right at your tip with ease. The Spice MI700 DroidPad is powered by Qualcomm MSM7227/600 MHz chipset with ROM/RAM of 512MB respectively and would be able to support a microSD card up to 32GB. You can check out the full specification at the CSL website.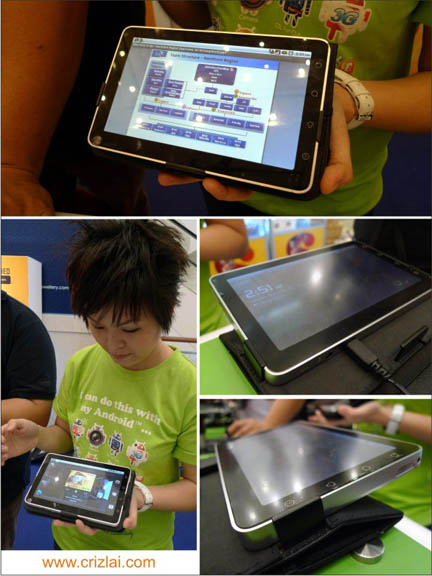 I did a little time exploring more on the set but I would think I may need to spend more in the future to get accustomed to some of the features. Here are some of my feedbacks I can provide at the mean time.
1. The booting time is quite acceptable at almost less than a minute considering that not that many programs had been installed into the system yet.
2. The screen resolution is quite acceptable, provided you do not place the screen protector sticker, which eventually caused the colors to be slightly pale looking.
3. Scrolling, touching and swiping can be quite smooth with hardly any lagging although I did face some areas where my touches needed to have at least two inputs. I have no problems with the smartly spaced virtual keyboard.
4. As for games, it rocks all time. No lag at all so far.
5. Reading with its e-Book reader can be fun as the word size is just right for my vision. Page transition is without any haste too.
6. I have no problems viewing videos through YouTube or any other online video sites. I have yet to test out on the video player but I guessed I may have to download some players to test the system out soon.
7. I also do not have any problems checking out my emails as well as connecting to FaceBook or Google Talk. I have yet to test out on some of the FaceBook games.
8. Checking GPS reading from Google Maps was fine. I'll check on the free one year MapKing GPS Navigation system once I get it activated soon.
9. With two speakers installed at both sides of the tablet, the sound of music through the music player is quite acceptable.
10. Browsing and switching websites is smooth flowing, except that I wonder why CSL missed out the feature of allowing FLASH related graphics to show up on the system. Hardware or software limitation?
11. The quality of photo shooting through its 3MP camera is quite acceptable, considering that you won't really need such high quality photos to be posted online.
12. I have yet to test on the battery life but I guess all gadgets would not last more than a few hours if heavy usage.
13. The tablet's pre-installed full version of Documents To Go is so cool. It allows you to read, create, edit, cut or paste Word, Excel, Powerpoint and PDF files so easily. I love this so much.
14. As for the pre-installed applications, I felt that some of them such as the Islamic features is not relevant to some of our needs. It would be best if it were to be placed in the Market for those who need to download them. It gets rather cluttered and messy with so many things on the screen. Well, that's my personal opinion here.
15. Although the tablet might be convenient and light weight to carry around, the price is still too steep at RM1599 (~USD500). Even a NetBook is cheaper than the tablet easily. I personally felt that a price range of between RM1.1K and RM1.3K would be more attractive to capture the market share.
You can check out CSL Malaysia's official website for more updates.
I'm thirsty for a drink now. Would you be kind enough to treat me?