The Eastin Hotel Penang again has carried out its ongoing Corporate Social Responsibility (CSR) by sharing its successes with the community, especially those underprivileged Indian children during the month leading to Deepavali. About 23 orphanage children from the Ramakrishna Ashrama (Orphanage), Penang, were treated with a sumptuous semi buffet dinner at the Swez Brasserie last night. Eastin Hotel Penang General Manager, Ms Mary Ann Harris presented some goody bags to each of the visiting children of the orphanage. There was also a birthday cake for one of the children who coincidentally celebrating his birthday that night. The Ramakrishna Ashrama (Orphanage), Penang is a charitable Organization founded in 1938 under the inspiration and guidance of His Holiness Swami Bhaswarananda Maharaj. The Ashrama runs an Orphanage, catering to those needy children, both boys and girls between the age of 6 and 20 years old, would be educate spiritually and educationally to be the pillar of the future nation. It's great to have Eastin Hotel Penang making the coming Deepavali a memorable event in the lives of those orphanage children.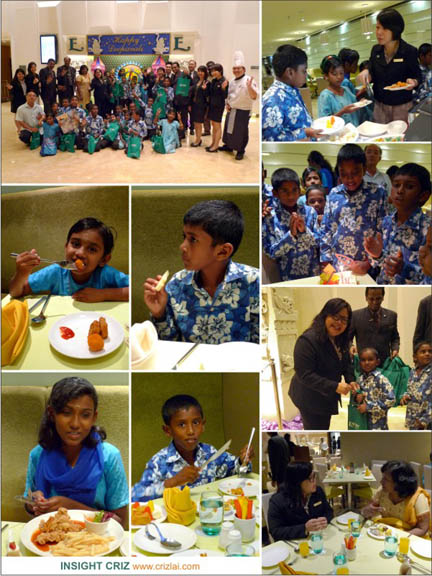 Since it was a semi buffet night (Monday – Thursday, 6.30pm – 10.00pm, RM48++/pax), there were two options for the main course. One of the dishes was Chicken Chop, whereas the other was a Vegetarian Spaghetti.
The Chicken Chop portion was huge. It came with batter fried chicken drumsticks with BBQ sauce, served with some greens and fries.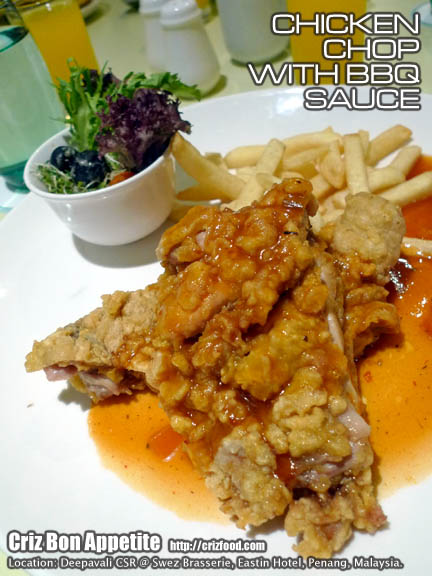 The Vegetarian Spaghetti on the other hand was real tasty with the right amount of vegetables and herbs. I love the al dente of those evenly sauced spaghettis.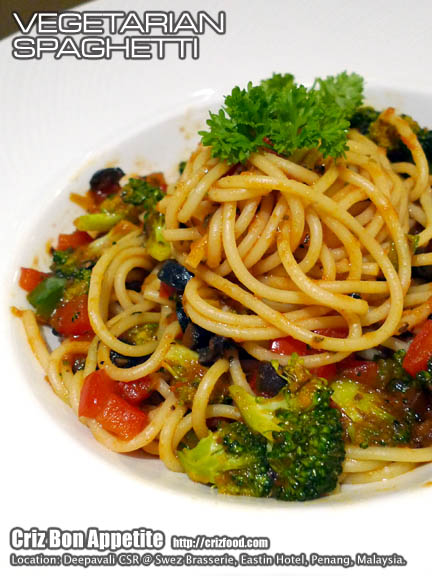 Amongst other dishes available were Kids' Corner, salads, appetizers, soups, cheese and lots of delicious local and international desserts.

Eastin Hotel, Penang is located just next to Queensbay Mall. If you are coming from Georgetown towards Bayan Lepas Free Trade Zone via Bayan Lepas Expressway, do watch out for the Pulau Jerejak signboard (leading to Pulau Jerejak jetty). Ignore the turning and drive on to the next left junction. Turn left into Jalan Aziz Ibrahim and drive on until you a roundabout. Turn 3 o' clock and drive on until you see a big Eastin Hotel signboard at the first right junction. Turn right and drive on. Park your car at the basement car park. Take a lift to the third floor and you would see the Grand Ballroom where the charity event would be held.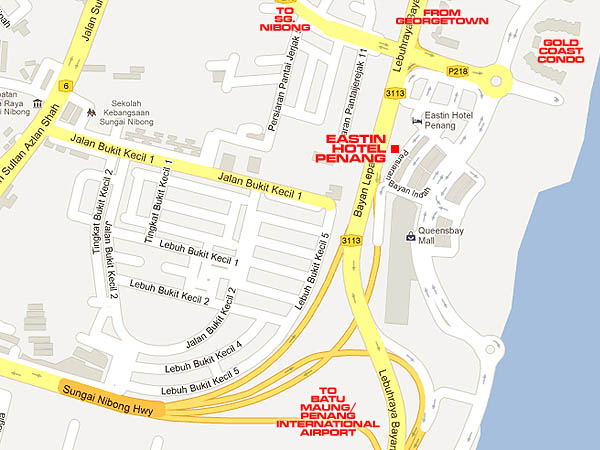 Name: EASTIN HOTEL PENANG
Address: 1 Solok Bayan Indah, Queens Bay, 11900 Bayan Lepas, Penang, Malaysia.
Contact: 604-612 1128, 604-612 1138
Business Hours: 6.30pm-10.00pm (Semi-Buffet, Mon- Thurs)
GPS: 5.33643, 100.306345
I'm thirsty for a drink now. Would you be kind enough to treat me?