The Royal Norwegian Embassy in Kuala Lumpur is showcasing the best of Norway at the Norway and Norwegian Consumer Goods Exhibition held at the Gurney Plaza, Penang, from 1-4 November 2012. On top of displays of superb photographs on Norway, there would also be some product introductions and/or testing by 4 major brands out of more than 60 Norwegian investors in Malaysia, namely Tine Norway, Trapia Sdn Bhd, Jordan and Jotun which would showcase their range of products from Norway or from Norwegian expertise. This exhibition was officially launched by our Chief Minister of Penang, YAB Tuan Lim Guan Eng on 1 November 2012 evening, together with the newly appointed Ambassador of Norway to Malaysia, H.E. Han Ola Urstad, in the presence of many dignitaries, invitees, bloggers and media personnel.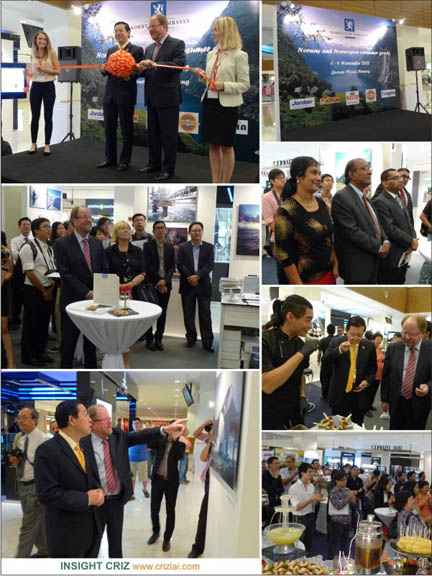 One of the exhibitors was Tine Norway (pronounce as tee-neh), an exporter that has been distributing the famed bestselling brand of cheeses, Jarlsberg®, all over the world especially in USA, Europe and Australia. We got to try out some of the cheeses last night such as the Jarlsberg® Original Wheel (a medium fat semi-firm ripened cheese), the Jarlsberg® Lite Loaf (40% less fat than the original Jarlsberg) and Norway's national cheese – the Gudbrandsdalen (a brown fudge like cheese with a distinct sweet taste of caramel, accidentally discovered by boiling whey, goat's milk, cow's milk and cream for hours).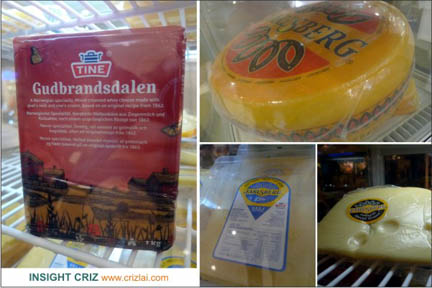 What impressed all of us what the taste of the Gudbrandsdalen, which would also come in other branding such as Ski Queen®, Ekte Geitost and Messmör. It has a smooth "peanut butter" sort of texture, slightly creamy but sour from the usage of goat's milk with a "nutty sweet" caramel after taste. Wow! It would amazingly palatable for my slice of bread for breakfast.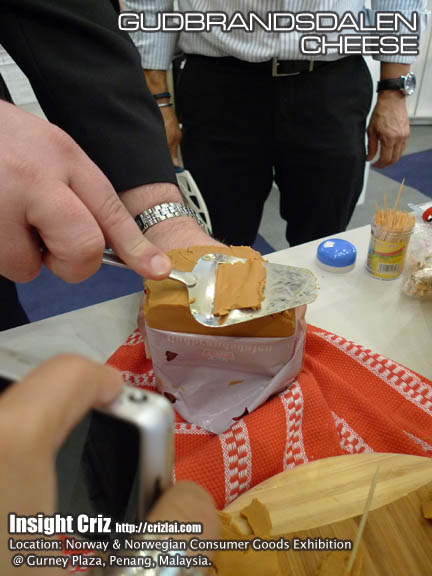 We were also shown how to slice the Gudbrandsdalen with another Norwegian creation – the ostehøvel (cheese slicer). The peeler type of special gadget was used to crate thin slices of cheese for topping bread, crisp bread and waffles. It was very innovative and practical indeed.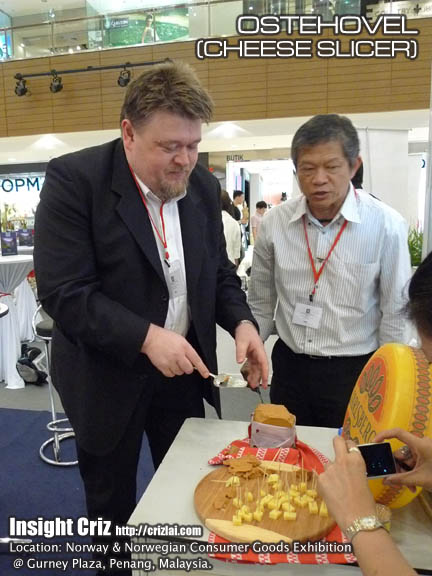 Another of the exhibitors was Trapia Malaysia Sdn. Bhd., a Parit Buntar, Perak, Malaysia based company specialized in eco-friendly fish farming operations, located in the pristine rainforest-fed freshwater of Lake Temenggor, Perak, Malaysia's second largest lake. Trapia produces a unique strain of GenoMar Supreme Tilapia species from egg-to-plate, using a state-of-the art aquaculture technology, to produce a safe, sustainable, high quality and healthy product that exceeds global aquaculture standards. Some of their products included Frozen Skinless Tilapia Fillet, Frozen Tilapia Loin and Frozen Tilapia with Skin.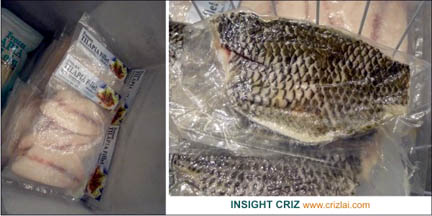 A Tilapia dish food demonstration was showcased by Chef Samuel Cheong, an experienced chef with years of overseas exposures, from Abby Road Bistro Restaurant, within the Sunway township of Seberang Jaya, Penang. He came out with a canapé dish with stir fry spinach and mushrooms at the base, topped with a salt and herb infused pan-fried tilapia fillet and garnished with a spicy tomato tapenade quenelle plus a small leave of parsley. It was a good combination. Though the surface of the pan-fried fish was a bit dry due to a long standing time after cooking, the fillet from the special breed of tilapia was surprisingly tasty. There were no muddy and strong fishy taste as you would get from our local black or red tilapia species. The fillet was thick and juicy as you would get from a sea bass.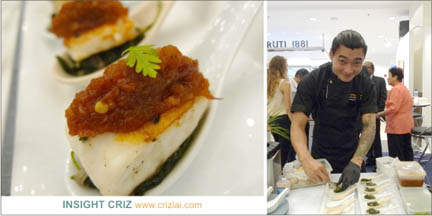 I'm sure most of us are aware of the presence of the Jordan oral hygiene range of products. They were also one of the exhibitors and also one of the world's leading companies in preventive oral care, producing quality toothbrushes, dental floss and dental sticks. Just pop in the booth and have a view on their user-friendly designs for several oral hygiene problems. There would surely be a catchy design to impress just any age group. You can also get free tips and advice on oral hygiene on Jordan Asia Pacific's FaceBook page. Feel free to drop by and like their FB page and you might walk away with one free toothbrush, while stocks last.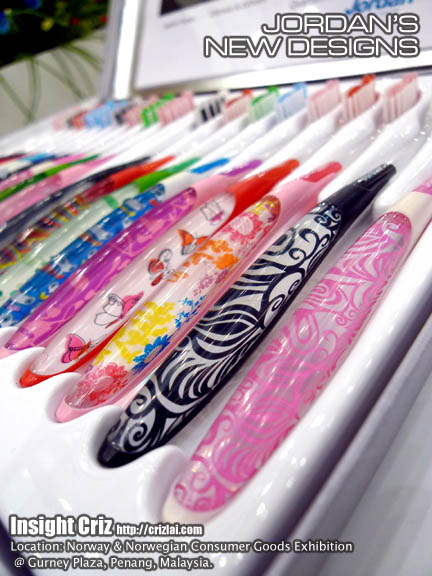 Jotun, one of the world's leading manufacturers of paints, coating and powder coatings, would also be there to provide you with advices on getting a new coat of paints for your house. The company was the first to produce the Multicolor Tinting System, giving you the freedom to choose more than 10,000 color creations of almost any hue at your fingertips and dispense the chosen paint color in less than three minutes. Jotun's Majestic Ecohealth range of interior premium paints that is free from toxic chemicals, the New Strax Easy Clean, the New Woodshield, a wood stain and varnish with the widest range of tintable colours in the market, and the New Jotashield with AntiFade Colours are among the paints that will be on display at the exhibition.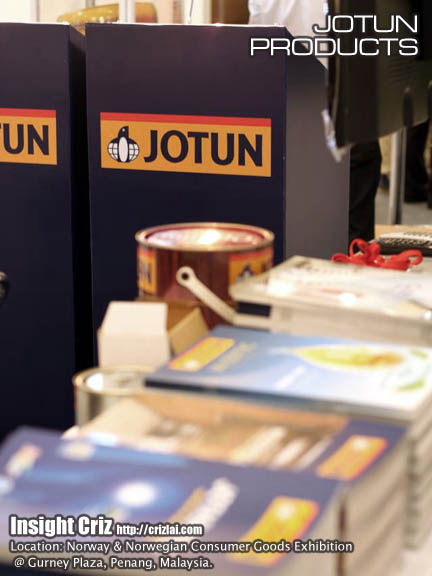 The Royal Norwegian Embassy also held a symbolic handover of sponsored goodies and monetary assistance of RM4,000 to the representatives of the Children's Protection Society of Penang.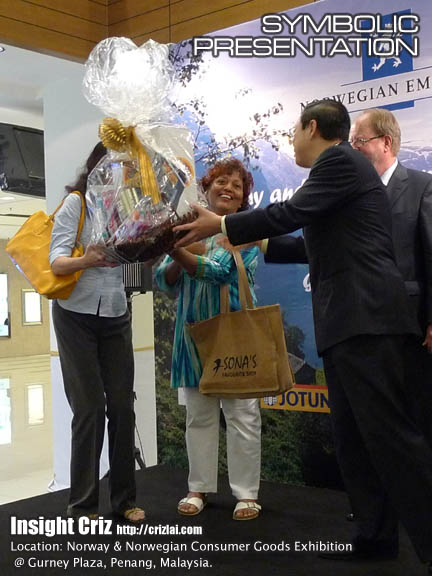 The launch ended with some light refreshments, supplied by Penang's own quality certified Bamboo Catering (M) Sdn. Bhd.
If you are at Gurney Plaza between 1 and 4 November 2012, do pop in Norway and Norwegian Consumer Goods Exhibition. It's just before to Manilla Place and Dragon-i, towards the end at the new wing, leading to Jalan Kelawei exit. There would be some food samplings.
I'm thirsty for a drink now. Would you be kind enough to treat me?