For those wine lovers, chilling out would not be the same anymore with the launch of Wines of the World (WOW) at The Best Brew @ Four Points by Sheraton Penang. You have the option to try out 250 wines from 30 quality wineries in 11 countries from Australia up to Spain. Why not enjoy the comfort of the bar while watching FIFA World Cup 2014 with a glass or a bottle of wine instead? Currently, up to 15 July 2014, SPG members get to enjoy any 3 selections from our Wines of the World menu at 25% off at The Best Brew or The Eatery. If you are not a member, you can sign up for SPG membership here at http://bit.ly/1q2QQRT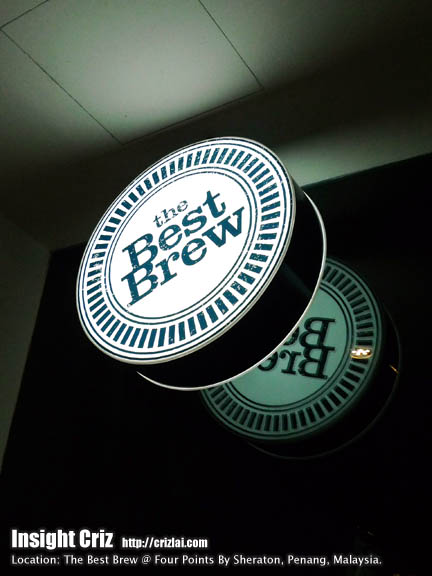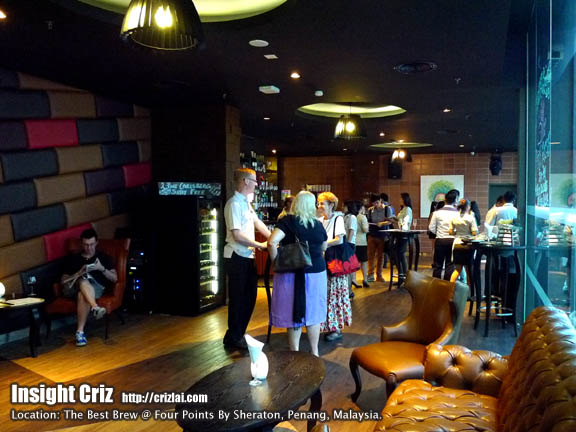 Cheese always pair well with wine, thus the chef had prepared some cheese spread such as bleu cheese, brie, cheddar, mozzarella plus some vegetable sticks, fruits and crackers to blend in with the occasion for the night.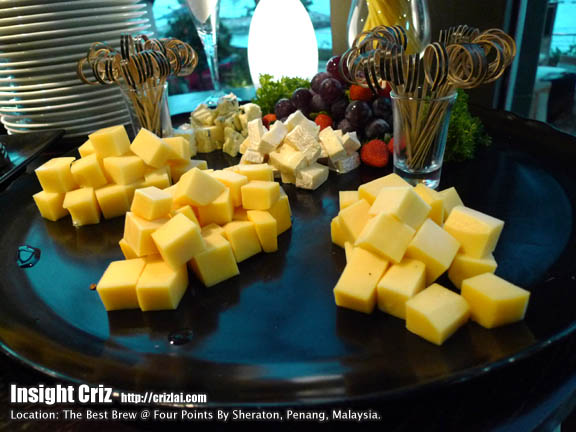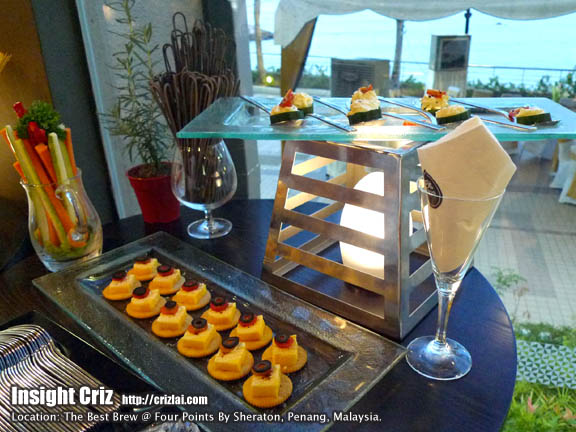 Now, let me introduce you to a few of the top selling brands for the wines. Firstly, there's the De Bortoli Sparkling Brut N/V (Australia – Glass: RM60+/ Bottle: RM250+, Non-Vintage). The sparkling wine was bubbly refreshing with fresh fruit flavors and smooth to drink. It had some delicate, creamy and crisp acid finishes. This medium-dry and light bodied wine would be best enjoyed as an aperitif.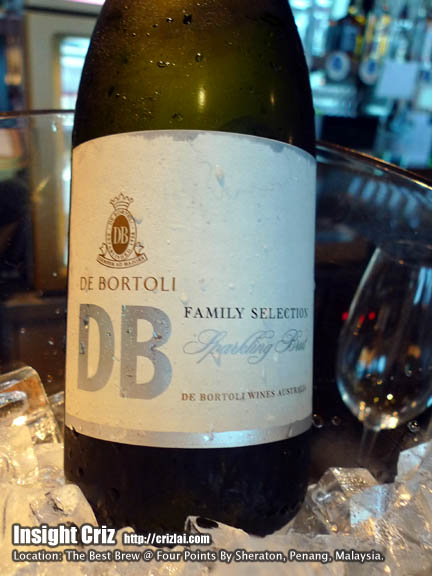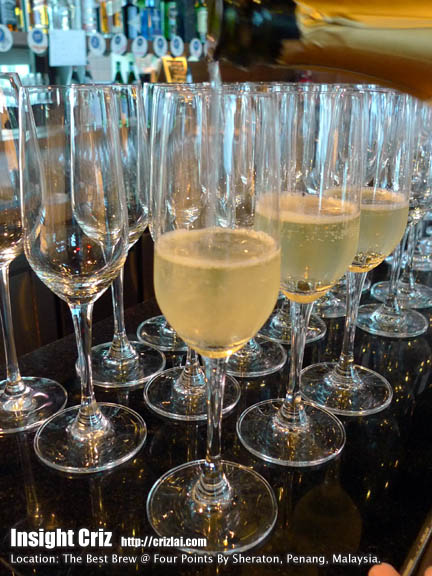 Next, we had a sample tasting on 3 different white wines such as the Parellada Torres Mas Rabell (Spain – Glass: RM35+ / Bottle: RM150+), Bianco, Frescobaldi Remole Toscana (Italy – Bottle: RM170+) and Sauvignon Blanc, Deen Bortoli Vat 2 (Australia – Bottle: RM160+). The fresh, light bodied and uncomplicated Parellada Torres Mas Rabell Spanish wine was pleasantly fruity with a light sparkling acidity. Its freshness fits excellent consumption during young years. The Bianco, Frescobaldi Remole Toscana is a pale straw color shot through with greenish highlights and has a lovely fruitiness on the nose, with confident notes of ripe pear and nectarine. Its delicate floral notes continue onto a palate that is crisp, tangy and full-flavored. The Italian wine would act as an excellent aperitif to enhance flavors in salads, pasta and fish. On the other hand, the award winning (2013 Brisbane Wine Show – Gold Medal, 2013 International Wine & Spirit Competition – Bronze Medal and 2013 Perth Wine Show – Bronze Medal) Sauvignon Blanc, Deen Bortoli Vat 2 is perhaps the best value range of wine amongst the 3 option stated above based on its refreshing and fruity taste. It's bright on the nose with hints of snow pea and passion fruit, almost similar to the smell of guavas with a light touch of the aroma of freshly chopped parsley. It's also crisp and lively on the palate with tropical fruit flavors and cleansing acidity.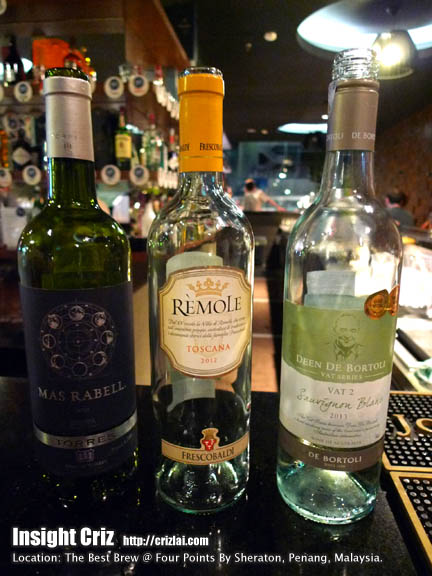 We also tasted 3 different red wines such as the Carinena Garnacha, Torres Mas Rabell (Spain – Glass: RM35+ / Bottle: RM170+), Frescobaldi Remole Toscana IGT (Italy – Bottle: RM140+) and Shiraz, Deen Bortoli Vat 8 (Australia – Bottle: RM160+). The Carinena Garnacha, Torres Mas Rabell is deep ruby colored with a hint of ochre with rather complex notes of spices and blackberries, almost similar to a fruity version of licorice. The Spanish red wine would be ideal to pair with hearty dishes such as meat roasts and casseroles. The Frescobaldi Remole Toscana IGT has a luminous ruby of appealing depth, rich and announces an equally complex nose, peppery spicy with multi-faceted aromas of red and dark fruits. The entry is velvety and warm with a tasty vein of acidity and an aromatic fruity finish. It can be enjoyed on all occasions especially with those non-spicy charcuterie pastas with tomato base. Lastly, we also tasted the Shiraz, Deen Bortoli Vat 8 which had a distinctive dry prunes aroma, red and black berries flavors and soft oaky nuance. The palate offers sweet and ripe fruits characteristics with a light touch of peppery and oaky tannins.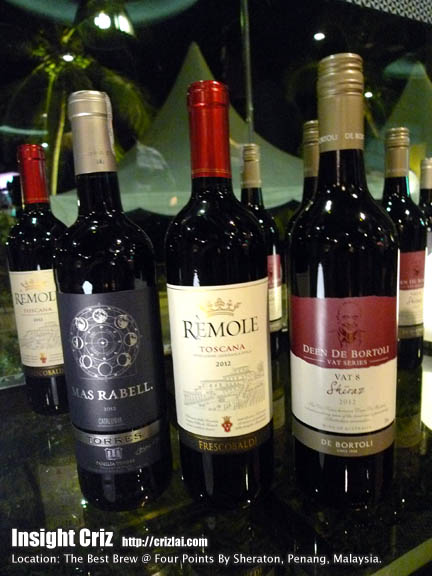 Overall, the Best Brew had a large selection of wines for everyone's personal needs. You would sure find a brand that would suit you for casual drinking or to pair with your meals. Don't forget to register yourself with SPG for more value added offers.
The Best Brew @ Four Points By Sheraton is located along the main road of Jalan Tanjung Bunga. To get there, just use the road going towards the beaches of Batu Ferringhi. As you reach a curving part of the road, keep to your right after the first traffic lights (Chinese Swimming Club on your right). At the second traffic lights, turn right into the hotel's premises to find a car park. Walk straight into the lobby and you can find The Best Brew is located at the left wing of the hotel.
Honest and uncomplicated, Four Points by Sheraton Penang is located on the main road connecting UNESCO World Cultural Heritage city Georgetown and Batu Ferringhi, a popular beach area. The hotel is situated on a stretch of white sandy beach overlooking the shimmering sea of Tanjung Bungah. Ideal for leisure and business travelers looking for a peaceful, yet convenient getaway, the hotel is 12 minutes from the bustling city center and 45 minutes from the Bayan Lepas International Airport by bus or taxi.
Known as the "Pearl of the Orient", the what-to-do-list on the island of Penang is plenty. It attracts visitors with its flavorful cuisine, vibrant culture and rich history. For those who are interested in the history and heritage of this island, the UNESCO World Heritage Site is just 15 minutes away from the hotel with numerous old architectures, shops and cafés to admire. Alternatively, take in the spectacular views of Georgetown and the iconic Penang Bridge from a distance on top the Penang Hill, via a cable car ride up. For more information or to make reservation please call +604-371 8888 or email reservations.03947@fourpoints.com or visit www.fourpoints.com/penang.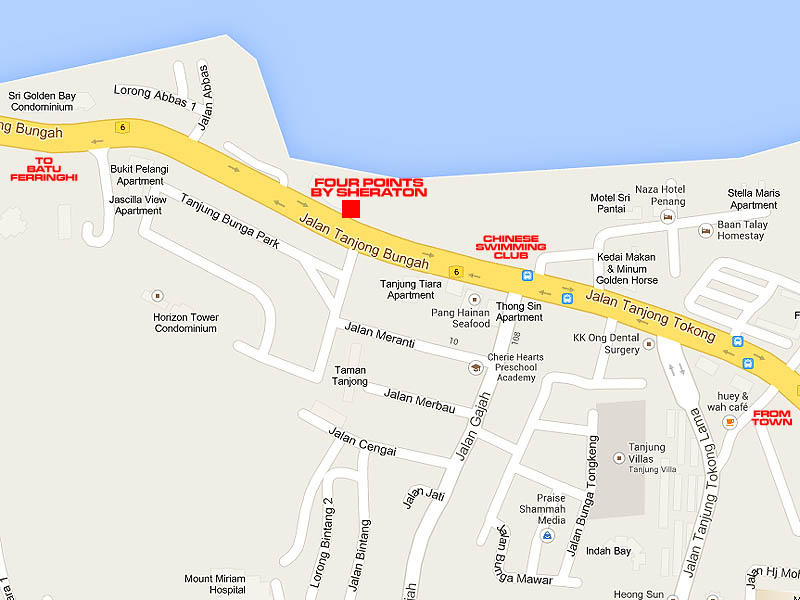 Name: THE BEST BREW @ FOUR POINTS BY SHERATON PENANG
Address: 505 Jalan Tanjung Bungah, 11200 Tanjung Bungah, Penang, Malaysia.
Contact: 604-371 8888 (General), 604-371 8707 (The Eatery)
Business Hours: 12.00pm – 1.00am (Monday – Thursday) & 12.00pm – 2.00am (Friday – Sunday)
GPS: 5.463681, 100.301836
Please refer to: The Best Brew Menu
RATING:
Ambience: 7/10 (1-4 cheap, 5-7 average, 8-10 classy)
Food Choices: 7.5/10 (1-4 limited, 5-7 average, 8-10 many choices)
Taste: 7.5/10 (1-4 tasteless, 5-7 average, 8-10 excellent)
Pricing: 8/10 (1-4 cheap, 5-7 average, 8-10 expensive)
Service: 8/10 (1-4 bad, 5-7 average, 8-10 excellent)
I'm thirsty for a drink now. Would you be kind enough to treat me?