If you love the sunny weather, the powder-fine sand and swaying coconut trees along the numerous beaches, then Langkawi, an archipelago made up of 99 islands over the west coast of Malaysia, would be one of the picturesque vacation destinations worth your visit. Whether you are a shopper, an adventurer, a nature lover or even making the island as a getaway for some relaxation, Langkawi has all the exciting vacation opportunities to keep you coming back for more. Recently, a few of us, namely myself, David Lee, Hudson Lau, John Khor, Angelia Teoh, Kaye Khoo and Laici, managed to join in the Langkawi "Go Green Nature Tour" day trip program (RM350/pax) to explore further the nature side of the island.
After parking our car at the open car park next to Fort Cornwallis at a flat rate of RM7, we adjourned to the check-in entrance next to the Queen Victoria Memorial Clock Tower along Jalan Tun Syed Sheh Barakbah by 7.30am. Have I told you before that no matter where I go, I tend to be a cat magnet? Here we met with Mrs. Cat. 😛 Upon having gathered our group members, we were directed to the Swettenham Pier to collect our tickets, ferry passes and "Nature Tour" stickers. We were then led to the berthing pier to meet our tour guide, Encik Jafri (017-435 3630). The ferry embarked for Langkawi at 8.15am sharp.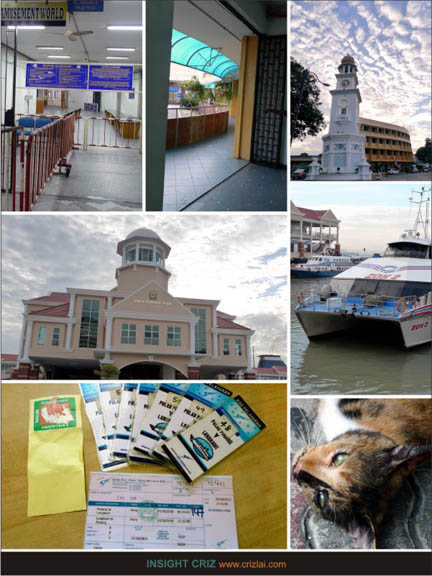 It was indeed a wonderful sight upon departure as we could see the panoramic view of the northern part of Penang, with Kompleks Tunku Abdul Razak (KOMTAR) being the most prominent landmark in Penang. We also took the opportunity to climb up the upper deck of the ferry to shoot some photos, with Laici being our model for the day. 😛 Of course, there were also some tourists who were more than willing to let us capture their memorable moments. Although we did encounter a thunderstorm halfway through the journey, it did not spoil our spirit to look forward to the adventures lying ahead of us. The journey went on very smoothly and the scenery of the aftermath of the thunderstorm was something I would not forget for a long time.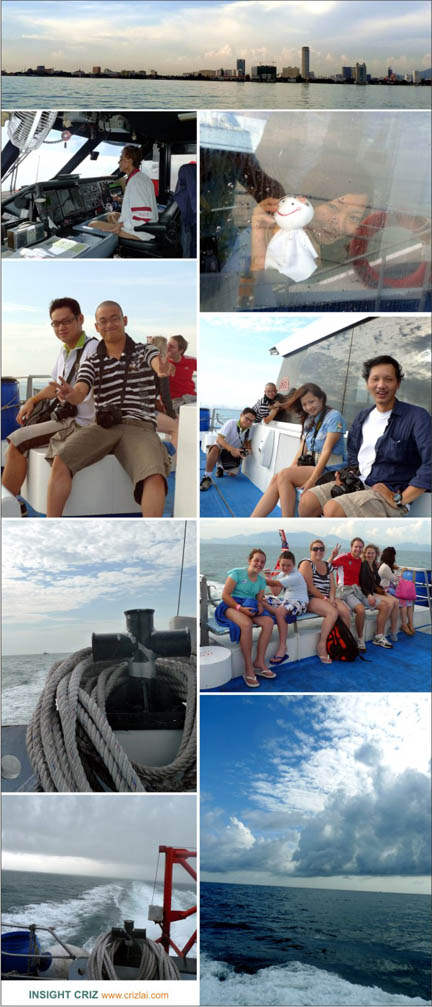 Since our ferry was a big one, we detoured to Pulau Payar about an hour and a half later to disperse some of the tourists onboard. I can still my most memorable experience here early this year. If you are keen into water related activities, this island which is also known as the "Rainforest of the Sea" would be a paradise for snorkeling and scuba diving.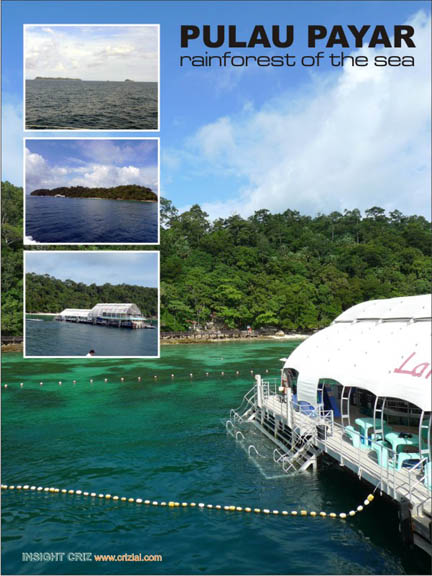 After leaving Pulau Payar for abour an hour or so, we finally saw land with traces of buildings scattering everywhere. Finally, we were to reach Langkawi. Upon berthing Langkawi's Jetty Point, we took shots of the surroundings with a nice view of the Eagle Square (Dataran Lang). The Jetty Point is a prime commercial complex which is also a duty free shopping center and also the sea bound entry point to Langkawi. We then boarded into a van to start off our adventure.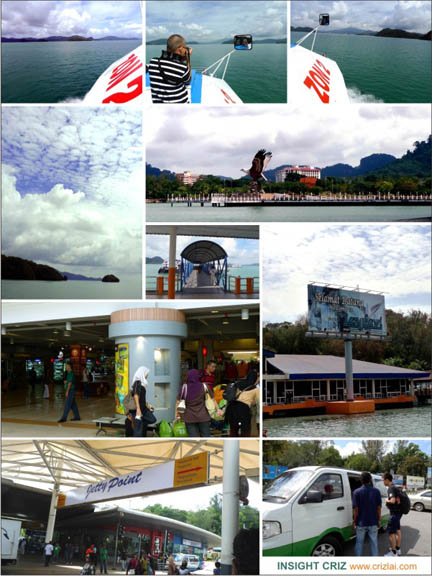 After 3 hours of traveling by sea, food was the first thing we had in our minds. The first place that we went to was Charlie's Place, located within the Royal Langkawi Yacht Club for lunch. In fact, the restaurant was just within a walking distance from the Jetty Point. As it was inclusive in our tour package, set lunch was provided. Other than the soup (we had Tomato Soup), dessert and coffee/tea, we can opt for a main course such as Nasi Goreng Kerabu, Beef/Chicken Burger, Fish & Chips, Spaghetti Napolitana or Club Sandwich. Vegetarian and kid's meal are also available upon request. The vicinity of this place did provide many unique sights for photography. I simply love the clear blue skies, the many yachts around and the calm turquoise sea here.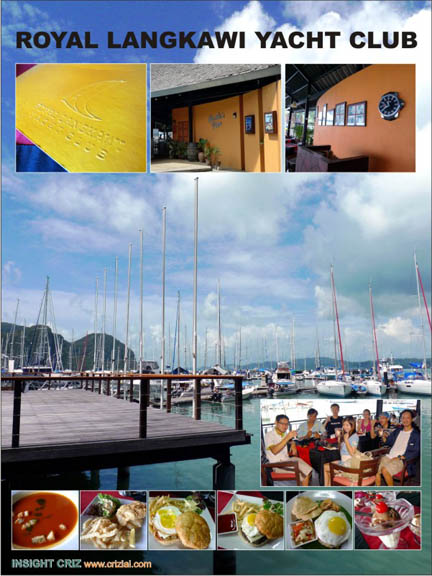 With a satisfying meal to fill up our empty stomachs, we proceeded with our new adventures. About an hour of traveling later, the van finally brought us to the Langkawi Oriental Village, a contemporary village that has Asian architectural structures with a little touch of English and French designs. It lies within the Machinchang Cambrian Geoforest Park, one of the world geopark status awarded and listed in the UNESCO Global Geoparks Network, at Burau Bay. The Langkawi Oriental Village, which also housed the GeoPark Hotel (604-959 2300), is actually a duty free shopping park and a gastronomic heaven with choices of food ranging from local, Thai to Japanese. It would take you about a 45 minutes' drive from Jetty Point, a 25 minutes' drive from Pantai Cenang and the Langkawi International Airport. The light cool breeze here with nice views from a nearby pond with hundreds of koi fishes swimming about and a classic red colored bridge across the pond, indeed was a magnificent site for capturing self portraits.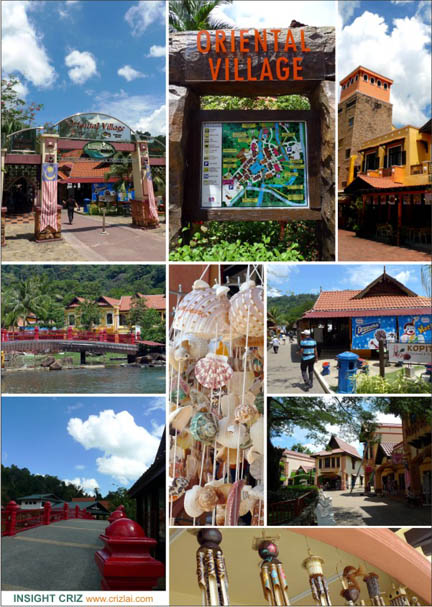 With a short walk within the premises of the Langkawi Oriental Village, is the entrance to the Langkawi Cable Car. The cable car would take you through a 2.2km stretch up the hill of Mount Machinchang (700m above sea level), where you would have some breathtaking and magnificent views of the whole island. If the weather is bright and sunny, you could catch glimpses of the Langkawi International Airport, Pulau Burau, Pulau Rebak, Pulau Singa Besar, Pulau Dayang Bunting, Pulau Tuba and many more. The ride up (vice versa) would take about 15 minutes with 360° viewing stations in between and at the peak. On the way up to the middle station, I could view clearly some deers in a reserve area as well as the Seven Wells Waterfall (Air Terjun Telaga Tujuh). Ticket would be at RM30 (adult) and RM20 (child) but MyKad holders would be eligible for some discounts at RM15 per pax. There would be certain days that the service would not be available due to maintenance or bad weather, so you better call up 604-959 4225 or check out their maintenance site to avoid any disappointments.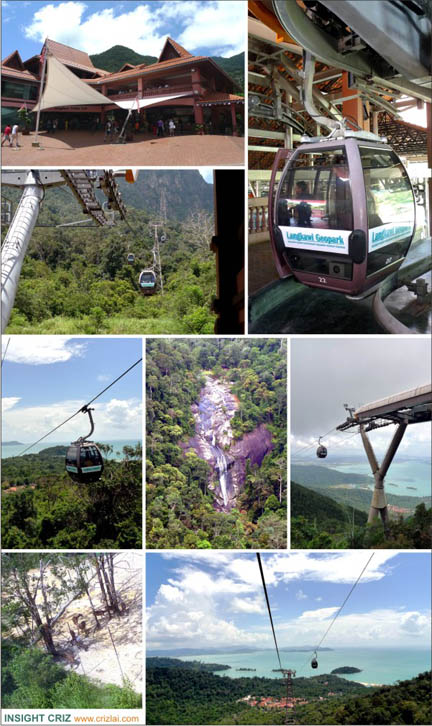 At the peak of Mount Machinchang (Gunung Mat Cincang) lies the longest suspension bridge in the world – the Sky Bridge, a 125m curved pedestrian cable-stayed bridge. You would need to hike down and up again through a steep stairways. It could be a breathless and painstaking experience for those who are not so physically fit. I would advise you to bring along some bottled water to quench your thirst and do rest in between to catch up some breath while admiring the flora and fauna along the way. Upon reaching my destination after a tiring walk downhill, I could see that the architecture and engineering of the structure were so amazing. Considerations were thoughtfully made to provide visitors with a psychological feeling of security with the secured cables, railings and wire meshed barricades along the sides. The views here were indeed spectacular. Along the horizon of the Andaman Sea, I could easily view southern Thailand's Tarutao Island in the distance. The weather here was somewhat like Cameron Highland's. The cool breeze did rejuvenate my fatigued body and mind after all. It could be real windy at times at this altitude, so do watch out for your cap, hat or skirts. You could either get your head gear "donated" to the greenery of the mountain (let's hope it's bio-degradable :P) or you could be the next Marilyn Monroe under the endless haunts of the paparazzi. LOL! Anyway, do take note of any warning alarm in case of any unpredictable oncoming thunderstorm and lightning.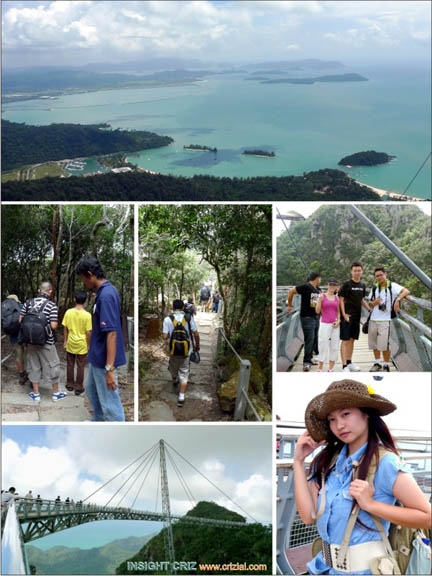 After the breathtaking moments up the mountain, we headed for more adventures at the Kilim Karst Geoforest Park, another of the UNESCO recognized geoparks, approximately 13km away from Kuah Town. The nature park which spreads over 100 sq km in the northeastern part of Langkawi, featured magnificently formed landscape of limestone hills with pinnacles of various shapes and sizes. This was where we started out our Kilim River Expedition to explore Mother Nature's formation of life that has long coexisted in these ecosystems for eons, namely the caves, wetland mangroves, flora and fauna, marine lives and the symbol of Langkawi – the eagles. Kaye can be seen here all set with his "bazooka" lens, waiting to capture the memorable eagle feeding shots. The whole package would cost as low as RM200/hour to RM450 for 4 hours with a minimum of 2 passengers to a maximum of 8 passengers. For more information, please contact the Langkawi Tourist Information Centre at 604-966 7789 or 604-955 7155.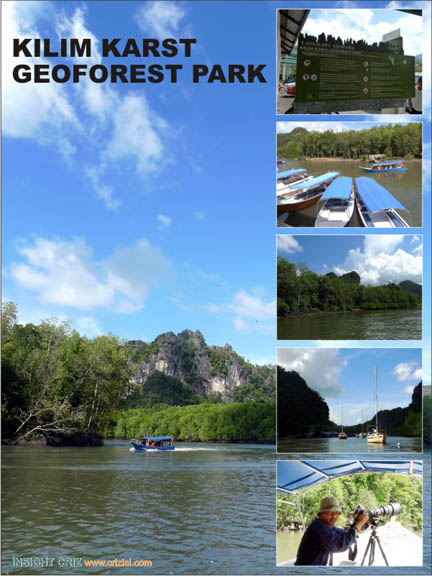 Departing from the Kilim Jetty, our first stop was to the Bat Caves (Gua Kelawar, named after its inhabitants, the Malaysian fruit bats) located about 400m away from the jetty, lurking within some green mangrove forests. Walking through a man-made pathway, we went into a totally dark cave with prominent signs of stalactites and stalagmites forming everywhere. I could also see many columns (tiang gua) being formed here when the stalactite and stalagmite connected with each other through thousand years of nature processes. I would advise you to bring along a handy torchlight just in case you are scared of the dark but no camera flashes would be allowed in here as it may scare off the hundreds of bats clinging precariously on the ceiling. One unique stalactite formation towards the eastern opening you have to take note of would be the bended stalactite (sometimes known as the oblique stalactite). Through some quirk of nature, they somehow took a slight turn from the perpendicular and formed towards the sunlight. This is believed to be associated with the deposition of travertine deposits by photosynthetic algae that required brighter sunlight to grow.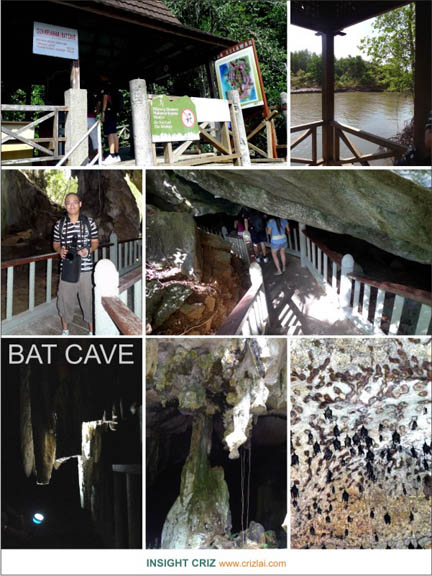 As we moved along the pathway, we encountered a few underground chambers and ceiling chambers formed by water erosion through millions of years. There was also the fern-like Cycas clivicola (also known as the "Living Fossil"), that has existed over 200 million years, hanging at the cliff of the limestone formation. This hardy plant had even survived longer than the dinosaurs. It was an amazing experience to sight one here! The mangrove swamp over here was real captivating with signs of abundant plants springing out of the mud just everywhere. I could not even get my eyes off those orange clawed little fiddler crabs (Uca coarctata) crawling here and there on the mud banks. Surprisingly, I did not get any glimpse of any monitor lizards here. Maybe they are more abundant at the Dayang Bunting Marble Geoforest Park, another recognized UNESCO geopark, which we did not have the time and opportunity to pay a visit. Luckily, I had seen them lazing abundantly along the white sandy beach of Pulau Dayang Bunting during one of my adventurous trips some years back. It was a rare sight then.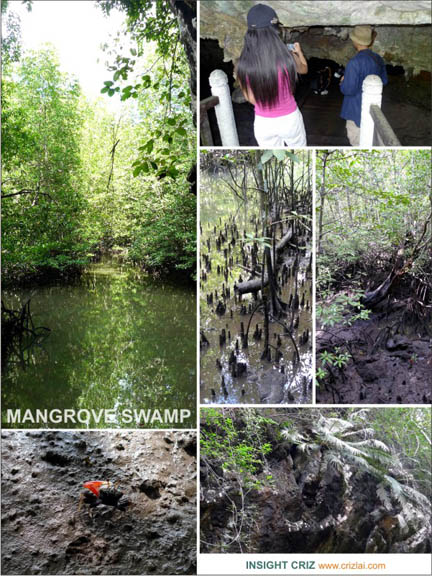 We then moved on to out next destination along the Kilim River – the "Hole in the Wall" Fish Farm & Restaurant, the only floating restaurant in Langkawi. Since we were there only for a day trip, we did not get to savor the fresh seafood dishes available for lunch and dinner. Instead, we got a guided tour around the fish farm. There were many marine lives spotted here such as the giant-sized grouper, giant trevally (GT), barramundi, stingray, horse shoe crab (king crab), mangrove jack, snapper, batfish and many more. One of the main attractions of the day was the stingray feeding session. I have never seen such a close relationship between human and fish, where the stingray would let someone stroke on the head and hand fed. It was astonishing to see such actions! The other main attraction was the archerfish (ikan sumpit/spinnerfish) which is known to prey and accurately shoot down land based insects with water droplets from their specialized mouths as far as 3m away. They would also leap out of the water and grab the food with their mouths if the food were to be within reach. This was another interesting show for us.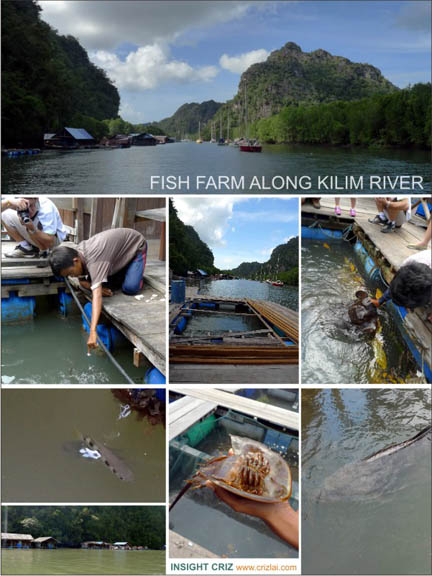 I wished I could have stayed a bit longer to play with the fishes but it was time for us to move on to our next destination – the Eagle Feeding site. Upon reaching, the whole site was already filled with boats with hundreds of eagles soaring up above the skies waiting for the boats to throw out some chicken skins for their feeds. Two of the dominating birds of prey included the White-bellied Fish Eagle (Haliaeetus leucogaster) and the Brahminy Kite (Haliastur indus), twice smaller sized than the former. Both have sharp eyes and can seek any prey on land or water 2km away. The latter, with contrasting white head, breast and brown wings derived Langkawi's name. "Lang" which derived from the Malay word for eagle – helang and "kawi" literally meant batu kawi, a sort of brown marble found abundantly on the island. I have to admit that with "bazooka" lens, DSLR or compact cameras of any make, shooting the swift flying eagles was a difficult task for us. Most of us ended up with hundreds of photos just for this site and yet only a handful of shots were deem to be almost perfect. I guessed we'll need the National Geographic team to be in next time with their expertise. 😛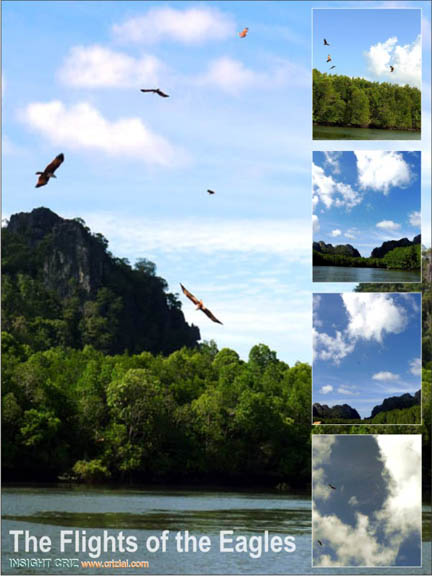 Well, it was time for us to end our nature tour and head back to Jetty Point to catch our ferry home. It was indeed a hectic trip and I wished we could have more time on the island to catch up with the rest of the interesting sites. Most of the time was spent just on traveling by sea and by road with little left for sightseeing. As a blogger, photography is something that we are all enthusiastic about and a tight schedule for any activity would not allow us to get the best out of any event. We have to forgo visiting the Eagle Square as per itinerary due to lack of time. Moreover, we were left with barely 15 minutes of shopping time to grab whatever little gifts we had in mind. I won't blame the tour operator on this issue but would rather advise the ferry consortiums to have a more realistic departure time. Maybe, the last ferry could be extended to 6.00pm instead of the present 5.15pm? As for our tour package, we were given a snack meal and a bottled drink as dinner.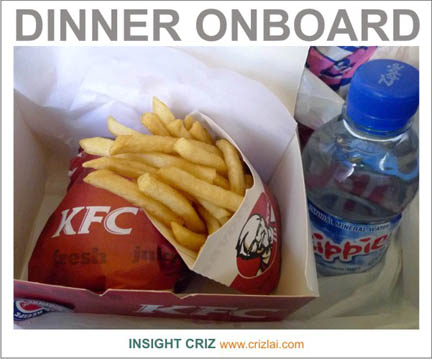 As the journey home would take another 3 hours, we took the opportunity to fully utilize our time by shooting more photos of the sceneries out there. The sunset at the horizon overseeing the Andaman Sea was amazingly beautiful… so was our so-called model of the day~ Laici 😛 We berthed at the Swettenham Pier at 8.30pm and headed to the Tree Shade Restaurant along Weld Quay for our dinner. It was a fun-filled trip and we get to understand each other better now. 🙂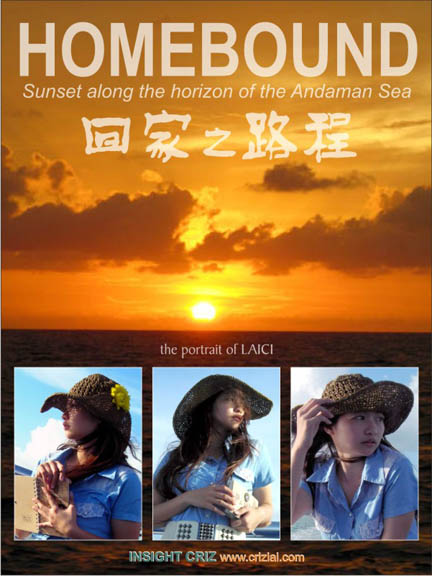 For purchasing your ticket to Langkawi or Pulau Payar, please visit:
Langkawi Saga Travel & Tours Sdn Bhd
16 Jalan Tanjung Bungah, Georgetown, 11200 Penang, Malaysia
Tel: 604-899 8822
Fax: 604-890 6068
Email: sales@langkawicoral.com
Website: http://www.langkawicoral.com
GPS: 6.0654, 100.0433

I'm thirsty for a drink now. Would you be kind enough to treat me?